06 October 2022 – GTMaritime has appointed Richard White as its new Global Commercial Director, with a brief to drive further growth at the leading provider of secure maritime data communications software. GTMaritime currently delivers solutions to over 12,500 vessels, including some of the largest ship owners and operators in the world.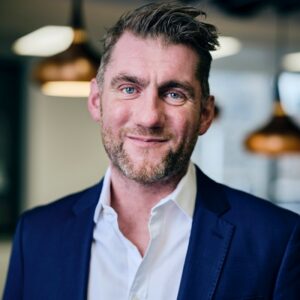 Richard brings a wealth of leadership experience to the role, with over 16 years in the maritime industry and more than 20 years in senior management. As well as developing digital strategies and solutions in their own right, he has made a speciality of developing organisations to support implementation.
Before joining GTMaritime, Richard simultaneously held the positions of Group Chief Information Officer at Clarksons Platou, and Chief Technology Officer at Sea/ by Maritech where he led the development of bespoke software solutions for the shipping sector and oversaw the digital transformation of the Clarksons service portfolio.
As Global Commercial Director for GTMaritime, Richard will focus on business development as demand for secure and reliable data communications solutions increases across the maritime sector. He will also be responsible for overseeing GTMaritime's global sales and marketing network.
Robert Kenworthy, CEO, GTMaritime commented: "We are thrilled to welcome Richard to GTMaritime. Richard has a proven track record of delivering transformational change in the industry and is an expert in the field of maritime software. As GTMaritime continues to grow, we are delighted to have him on board to consolidate GTMaritime's position as the go-to provider for maritime data communications solutions."
Richard said: "GTMaritime is known throughout the industry for its quality maritime software solutions and high levels of customer support. I'm delighted to join the GTMaritime team at such an exciting time for the industry as it continues to embrace digitalisation and new ways of working. I'm looking forward to supporting customers with their digital strategies and helping to take the GTMaritime business to the next level."
About GTMaritime:
GTMaritime
Wherever you are, we are.
Over 20 years maritime communications experience
12,500+ vessels & 500+ businesses worldwide trust GTMaritime with their communication software
Proven 100% service record with no unscheduled downtime
100% malware blocking with over 90,000 zero day malware attacks stopped in the last 12 months
Over 5.3m spam messages and 1.7m known viruses blocked in the last 12 months
24-7-365 technical support from ITIL trained engineers
Offices in the UK and Singapore along with a global partner network
Continuous software development ensures rapid deployment of new functionality, as well providing software updates for vulnerabilities
Since 1998 GTMaritime has been providing a range of technology solutions and services to the maritime industry that serve to enable effective communications over satellite.
We specialise in providing solutions and services that help ensure vessel compliance and business operability 365 days a year, as well as keeping crew in touch with friends and family whilst at sea. All of this is backed up by a market leading infrastructure and unrivalled 24-hour customer support, every day of the year.
Our development team deliver continuous development and enhancement features to ensure our products stay ahead of the ever-growing cyber threats, with silent system enhancements deployed on a weekly basis.
We provide these services from three offices – our head office in the UK and Singapore – and increasingly through an established and growing network of resellers and partners around the world.