26 September 2023 – Leading provider of secure maritime data communications software, GTMaritime, has reached 15,000 installations amid accelerating growth in demand for secure and reliable maritime software solutions. The news comes just 16 months after the company announced that it had passed the 10,000-vessel milestone.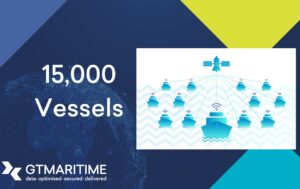 Richard White, Global Commercial Director, GTMaritime, said: "Over the past few years, we have witnessed rapid growth in the volume of data handled by vessels, and this trend only appears to be speeding up. The introduction of IMO 2021 cyber-security regulations plus the ongoing digitalisation and decarbonisation of the global fleet are amplifying demand for secure, reliable solutions that can handle increased data loads and integrate seamlessly into ship operations."
GTMaritime offers ship owners and operators a portfolio of future-proof data communications solutions for email, file transfer, software deployment and cyber security. Specifically designed to overcome the challenges of remote connectivity, the solutions provide seamless integration with shore-based tools, which can be managed via GTMaritime's single fleetwide management dashboard.
"Reaching 15,000 installations is another major milestone for us in what is proving to be an exciting period for the company," said Chris Judge, Managing Director, GTMaritime. "The fact it comes just 16 months after we hit the 10-vessel mark reflects both the surging demand for secure, maritime-optimised software solutions and the hard work and commitment of the GTMaritime team.
"I would like to express my gratitude to our customers for their continued loyalty, and to our colleagues, partners and resellers for helping our products to reach such a wide and diverse maritime audience."
In another boost for the company, GTMaritime recently received certification to the ISO/IEC 27001 international standard for information security management systems. ISO/IEC 27001 certification confirms that an organisation takes a comprehensive approach to managing security risks and preserving the confidentiality, integrity and availability of the data it owns and handles.
About GTMaritime:
GTMaritime
Wherever you are, we are.
Over 25 years maritime communications experience
10,000+ vessels & 1,300+ businesses worldwide trust GTMaritime with their communication software
Process icer 1,200,000 messages per day
Proven 100% service record with no unscheduled downtime
100% malware blocking with over 90,000 zero day malware attacks stopped in the last 12 months
Over 5.3m spam messages and 1.7m known viruses blocked in the last 12 months
24-7-365 technical support from ITIL trained engineers
Offices in the UK and Singapore along with a global partner network
Continuous software development ensures rapid deployment of new functionality, as well providing software updates for vulnerabilities
Since 1998 GTMaritime has been providing a range of technology solutions and services to the maritime industry that serve to enable effective communications over satellite.
We specialise in providing solutions and services that help ensure vessel compliance and business operability 365 days a year, as well as keeping crew in touch with friends and family whilst at sea. All of this is backed up by a market leading infrastructure and unrivalled 24-hour customer support, every day of the year.
Our development team deliver continuous development and enhancement features to ensure our products stay ahead of the ever-growing cyber threats, with silent system enhancements deployed on a weekly basis.
We provide these services from three offices – our head office in the UK and Singapore – and increasingly through an established and growing network of resellers and partners around the world.