27 November 2018 – GTMaritime has signed Marinesat as a value-added reseller to deliver its maritime-optimised communication solutions to vessels in China and other markets. The agreement with Marinesat is GTMaritime's first partnership within the Chinese market.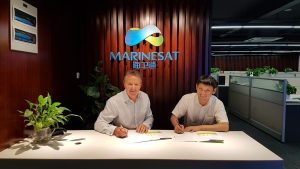 GTMaritime provides a range of technology solutions to the maritime industry that serve to enable effective communications over satellite, including maritime-optimised products for email, anti-virus protection and data transfer.
In addition to providing IT solutions, GTMaritime also provides services that help ensure business operability 365 days a year, as well as keeping crew in touch with friends and family whilst at sea. This is backed up by a market-leading infrastructure and unrivalled 24-hour customer support, every day of the year.
Marinesat has already begun to provide GTMaritime's products as part of its offering with the first vessels coming on board in Japan from October 2018. The roll-out will continue into the Chinese market, across Asia and further afield.
Marinesat is the largest broadband satellite communication provider in China and specialises in broadband access and value-added service; it currently provides VSAT services to 1,600 vessels in China alone.
"We are delighted to have Marinesat as our first partner in China," says Robert Kenworthy, CEO GTMaritime. "GTMaritime has 20+ years' experience in delivering maritime communication solutions and Marinesat is the ideal partner for us to work with to deploy our products into China and across other regions."
"As a leading maritime satellite communications provider in China, it is constructive for both GTMaritime and Marinesat to reach this strategic cooperation," says Josh Suo, Vice GM of Marinesat. "Marinesat is open and welcomes cooperation with outstanding companies like GTMaritime. Together we can provide more integrated maritime solutions for ship owners worldwide, thus realising our vision of the Intelligent Ocean Service Platform."
About GTMaritime:
GTMaritime
Wherever you are, we are.
350,000 messages pass through our systems daily
Close to 5,000 ships use our service around the world
Investment in our infrastructure and processes has allowed us to achieve 100% uptime on our systems over the last nine months
Cyber Secure focus with 16 Million messages processed in September and October 2018, blocked 20,000 viruses, 58,000 Spam messages and with GTMailPlus Advanced Threat Detection, blocked 6706 previously undetected Malware attacks
Concentrated effort on Cyber Security is ensuring our customers ships are safe and secure
Over 100 years combined maritime communications experience
24/7, 365 technical support from ITIL-trained engineers
Offices in the UK and Singapore along with a global partner network
Personally tailored, individual approach to our customers
Independent software can be used via any communication system
GTMaritime's software is designed and developed to support maritime vessels with their communications and data. We take pride in being a true technology partner who understands the complex nature of using multiple satellite connections in remote locations and typically, non-standard network environments.
Our products are created and improved by working closely with our customers and understanding how they want to use them; this means they are designed and built for the Maritime environments. Security, reliability, compliance and easy access to Big Data are all crucial, as is the ability to maintain and configure vessels remotely.
For further information:
David Kenworthy
Head of Marketing, GTMaritime
+44 (0) 1925 818918
David.Kenworthy@GTMaritime.com
www.GTMaritime.com
Debbi Bonner
Managing Director, JLA Media
+31 (0) 20 470 0619
debbi.bonner@j-l-a.com
www.j-l-a.com