Connectivity agreement renewal covering Hapag-Lloyd managed ships extends global container carrier's commitment by integrating former UASC fleet and bringing 33 more ships under the contract
09 September 2021 – Inmarsat, the world leader in global, mobile satellite communications, has expanded its agreement to deliver maritime broadband to Hapag-Lloyd, after the global transport group renewed its Fleet Xpress contract for a further five years and committed 33 more ships to the market's leading very small aperture terminal (VSAT) service.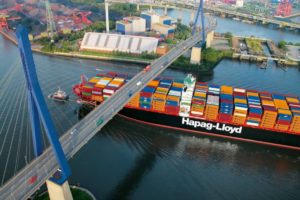 Under the extended agreement, which now covers 77 ships, the Fleet Xpress hybrid of Ka-band and continuous L-band back-up service replaces Ku-band systems onboard ships merged into the Hapag-Lloyd fleet following the earlier acquisition of United Arab Shipping Company (UASC) in May 2017. Scheduled Fleet Xpress installations enable seamless service migration based on the end of the outgoing supplier's contract.
"The further standardisation of our vessel communication systems is central to our Maritime IT strategy," said Florian Liebetrau, Director IT – Marine & Maritime Operations, Hapag-Lloyd. "The outstanding reliability and robustness of Inmarsat's Fleet Xpress as a product played a key role in our decision to expand our commitment. Hapag-Lloyd has a mature strategy for its vessel connectivity and management which demands systems-wide predictability, reliability, and integration to sustain our global vision for container transport."
Hapag Lloyd was one of the first major global shipping companies to commit to Inmarsat's Fleet Xpress following service launch in 2016, transitioning all of its in-house managed ships to Inmarsat's maritime broadband service for vessel operations and crew connectivity. The five-year contract envisaged expanding data traffic and scalability to handle fleet growth.
"We are delighted to renew and expand the work we do with one of shipping's most advanced owners for IT, ship-shore connectivity and digitalisation," said Ronald Spithout, President, Inmarsat Maritime. "Standardisation and integration are pivotal enablers for corporates. This agreement and its expansion to 33 additional ships clearly demonstrate Hapag-Lloyd's objectives are being met by the reliability, performance, and service support provided by Inmarsat's Fleet Xpress."
The new agreement includes the flexibility for Fleet Xpress-connected ships that are managed out of house and linked to Hapag-Lloyd operations to be brought under the same contract terms without renegotiation.
Offering an insight into the major developments in shipping's digital journey in recent years, Spithout said "The average committed information rates of data acceptable to deep-sea container lines today are roughly double the maximum information rates they expected in 2016. On average, a container ship's monthly data traffic in 2021 is around three and a half times the level experienced five years ago. Inmarsat is meeting this rapid growth in demand for connectivity at sea."
Contacts for media enquiries
Jonathan Sinnatt/Matthew Knowles
Corporate Communications, Inmarsat
Tel: +44 (0)20 7728 1518/1355
press@inmarsat.com
Debbi Bonner
Managing Director, JLA Media Ltd
+31 (0)652 630122
debbi.bonner@j-l-a.com
About Inmarsat
Inmarsat is the world leader in global, mobile satellite communications. It owns and operates the world's most diverse global portfolio of mobile telecommunications satellite networks, and holds a multi-layered, global spectrum portfolio, covering L-band, Ka-band and S-band, enabling unparalleled breadth and diversity in the solutions it provides. Inmarsat's long-established global distribution network includes not only the world's leading channel partners but also its own strong direct retail capabilities, enabling end to end customer service assurance.
The company has an unrivalled track record of operating the world's most reliable global mobile satellite telecommunications networks, sustaining business and mission critical safety & operational applications for more than 40 years. It is also a major driving force behind technological innovation in mobile satellite communications, sustaining its leadership through a substantial investment and a powerful network of technology and manufacturing partners.
Inmarsat operates across a diversified portfolio of sectors with the financial resources to fund its business strategy and holds leading positions in the Maritime, Government, Aviation and Enterprise satcoms markets, operating consistently as a trusted, responsive and high-quality partner to its customers across the globe.
For further information, follow us: Twitter | LinkedIn | Facebook | YouTube | Instagram.