05 June 2018 – Leading marine software provider, Helm Operations, is making waves again this month with the launch of Helm CONNECT Personnel, a new software solution for crew management. After focusing on industry needs around marine maintenance and compliance, the company has set its sights on revolutionizing the way marine operators manage, schedule, and handle payroll for their crews.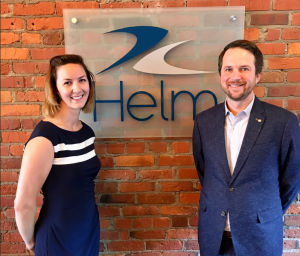 Launching this month, Helm CONNECT Personnel addresses the unique needs of marine companies in the work boat market. It offers an end-to-end solution for crew management, crew scheduling, and payroll, and integrates seamlessly with Helm's existing software for maintenance, compliance, and harbor dispatch.
Whether they work in harbors, inland waterways, or on the open ocean, today's vessel operators have very complex crewing, scheduling, and payroll requirements. Rachel Aylard, who leads the development of Helm CONNECT Personnel, explains the problems. "Onboard the vessels, the crew manage time sheets, watch schedules, rest time, overtime, and downtime, sometimes across multiple pay or budget centers. And then onshore, the team balances payroll while managing leave banks and accrued time-off, which are very specific to the marine industry."
The whole crew management process requires detailed record keeping onboard for compliance and payroll purposes. These records are often replicated on shore by dispatchers and payroll clerks to ensure crews are paid correctly and on time.
Aylard also highlights how complex the job of crew dispatchers can be. "Not only do they have to ensure there's a properly certified crew planned for each vessel's ever-changing operations, adjusting for holidays, partial hitches, rest time, and specialized work. They must also confirm that the crew arrive at the right place at the right time for each crew change, and document who's on which vessel at what time. Although often overlooked, they have one of the most demanding jobs in the industry," she says.
These time-consuming tasks drain the limited resources of dispatchers, who may each manage hundreds of crew across dozens of vessels, often with outdated-systems or manual processes. "Many marine companies are struggling to use mainstream scheduling and payroll systems that don't fit their requirements. They're using aging software or spending hours doing manual data entry from paper, then calculating and balancing payroll and leave banks in spreadsheets," says Aylard.
"We want to solve those problems and give our industry powerful tools to streamline their crew scheduling and payroll. Our goal with Helm CONNECT Personnel is to reduce the workload of crew dispatchers and payroll clerks by hours each day. And, like all our Helm CONNECT products, it's easy to learn and use."
The roll out for Helm CONNECT Personnel begins in June with a crew scheduling module, including time tracking and crew change management. The next module to roll out will be a powerful payroll module designed specifically for marine use cases, which are often not supported by mainstream payroll systems.
"Our payroll engine is incredibly intuitive and powerful. It has handled every case the crew dispatchers have entered in our pre-release versions, and we think it's going to change the way many marine companies handle crew payroll."
Helm Operations CEO, Ron deBruyne, echoes her comments. "Today, Helm CONNECT is used by almost 40 percent of the fleet of the American Waterways Operators. We've seen the incredible changes and efficiencies it has brought to the industry, and we're really excited to be offering the same benefits for crew scheduling and payroll."
Media contact:
James Wadsworth
Director of Sales
james.wadsworth@helmoperations.com
1.250.661.0664
About Helm Operations:
Since 1999, Helm Operations (formerly Edoc Systems Group) has been developing operations software for the commercial maritime industry. Helm CONNECT is the flagship product of Helm Operations. Whether it is managing safety and compliance, maintenance, inventory, billing, or jobs, Helm CONNECT gives you the information you need to do your job more efficiently. It is the workboat industry's first software designed through user experience principles, which makes it intuitive for use by everyone in a workboat company, from the crew right to the CEO. Helm Operations serves 18 countries worldwide with more than 1800 vessels. Some of the largest and most respected workboat companies in the world, including Crowley, SVITZER A/S, Kirby, Ingram Barge, ARTCO, McAllister, SAAM SMIT, Florida Marine Transporters and Blessey Marine use Helm CONNECT.