29 November, 2017 (Victoria, BC)– Helm Operations will demonstrate the latest components of its Helm CONNECT Inventory and Helm CONNECT Personnel products at the 2017 International Workboat Show (IWS) from November 29 to December 1 at the New Orleans Ernest N. Morial Convention Center.
Visit us at booth 1111, play our Inventory and Personnel games, and win Helm collectible swag.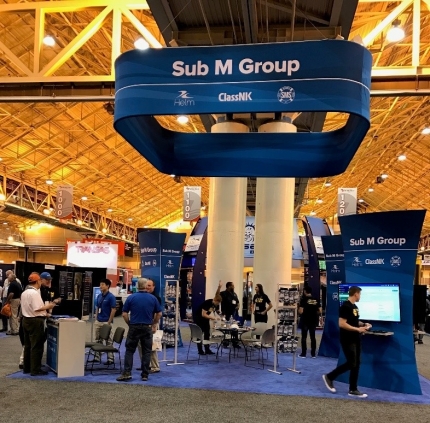 2017 International Workboat Show Helm stand
Helm CONNECT Inventory is a powerful system to track part and component inventories across your assets, manage part usage, and simplify request tracking. Chrystie Benson, Account Executive at Helm Operations says, "Helm CONNECT Inventory provides seamless visibility to both onboard and shoreside crew members into their inventory quantities, including when and how they were last updated. It also allows them to transfer parts between assets and the warehouse." Helm CONNECT Personnel is an integrated solution that allows you to plan and validate crew schedules and configure your payroll rules, so you can pay your crew accurately and on time. Benson says, "Helm CONNECT Personnel will make your job so much easier."
About Helm
Operations:
Since 1999, Helm Operations (formerly Edoc Systems Group) has been developing operations software for the commercial maritime industry. Helm CONNECT is the flagship product of Helm Operations. Whether it is managing safety and compliance, maintenance, inventory, billing, or jobs, Helm CONNECT gives you the information you need to do your job more efficiently. It is the workboat industry's first software designed through user experience principles, which makes it intuitive for use by everyone in a workboat company, from the crew right to the CEO. Helm Operations serves 18 countries worldwide with more than 1800 vessels. Some of the largest and most respected workboat companies in the world, including Crowley, SVITZER A/S, Kirby, Ingram Barge, ARTCO, McAllister, SAAM SMIT, Florida Marine Transporters and Blessey Marine use Helm CONNECT.