20 September 2018 – Leading developer of marine software looks to accelerate growth with new backing from global technology firm.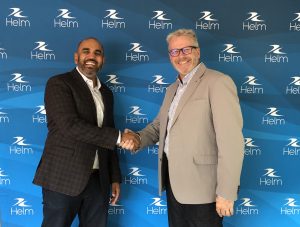 Leading marine operations software company Helm Operations announced today that it has been acquired by Toronto-based Volaris Group Inc. ("Volaris"). Volaris specializes in strengthening and growing technology companies and is a leader in the marine software space.
Founded in 1999, Helm Operations is widely known as the leading developer of marine operations software for the workboat market. Following an acquisition by ClassNK in 2014, the company released its newest platform, Helm CONNECT, in 2016, achieving tremendous growth in just two years.
Since its launch, the Helm CONNECT platform has grown to support the management of vessel maintenance, regulatory compliance, operations, and personnel, quickly becoming the leading marine software platform in North America and establishing Helm Operations as a global player in the marine industry. Today, Helm CONNECT is the fastest growing software platform in the marine industry, growing to be used by 150 companies and 3000 vessels worldwide in the 24 months since its launch.
"Our commitment to providing modern, user-friendly, powerful systems for marine operations has helped us achieve incredible growth over the past two years," says Ron deBruyne, CEO of Helm Operations. "Now, as part of Volaris, we look forward to building on that strong foundation, accelerating our growth in North America and internationally, and providing even greater value to our customers."
In keeping with Volaris' philosophy of acquiring, strengthening, and growing key technology companies, Helm Operations will maintain its own brand and independence with support and resources from Volaris. CEO Ron deBruyne, along with the existing management team, will continue to lead the business. Helm Operations joins other leading technology companies, SpecTec, ShipNet, and Idea Yacht, in Volaris' Marine vertical.
About Helm Operations
Since 1999, Helm Operations has been developing software to help marine companies better organize their operations and optimize their business intelligence. Its flagship product, Helm CONNECT, has emerged as one of the leading software platforms for marine operations and vessel management since its launch in 2016. Today, more than 150 customers serving 3000 vessels around the world use Helm CONNECT, including seven of North America's top ten marine operators, and some of the world's largest and most respected harbor docking and oil transportation companies.
For more information, please contact:
Ashley Dueck, Marketing Manager
Helm Operations
Tel: 250-415-8516
ashley.dueck@helmoperations.com

About Volaris Group
Volaris acquires, strengthens and grows vertical market technology companies. As an operating group of Constellation Software Inc., Volaris is all about strengthening businesses within the markets they compete and enabling them to grow – whether that growth comes through organic measures such as new initiatives and product development, day-to-day business, or through complementary acquisitions. Learn more at www.volarisgroup.com.

For more information, please contact:
Kim Emmerson, CMO
Volaris Group
Tel: +1 905 629 5297
kim.emmerson@volarisgroup.com