Subsidiary of world's largest shipyard becomes first Certified Application Provider to use new Dedicated Bandwidth Service to enable its digital total care solution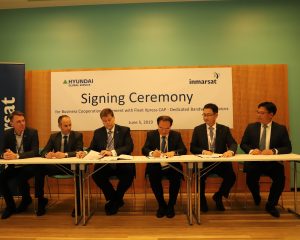 05 June 2019 – Inmarsat has signed a business cooperation agreement that allows Hyundai Global Service (HGS) to offer ship owners and managers a digital total care solution route to maritime digitalisation. HGS was established in 2016 by parent group Hyundai Heavy Industries as a digital transformation solutions provider to optimise ship operation and performance.
The ground-breaking agreement paves the way for a cooperation that will include the use of Fleet Xpress Dedicated Bandwidth Services by HGS to support its digital services for shipowners plus recognition of HGS as a Certified Application Partner (CAP) within Inmarsat's digital ecosystem.
The formal agreement has been announced after the completion of trials on board three ships over a three month period, testing a variety of sensor-driven applications measuring voyage and equipment operating data including fuel consumption and vibration monitoring, plus HGS analytics and reporting services.
The Inmarsat CAP programme allows application and software developers to choose their own route to digital enablement via either a Dedicated Bandwidth Service over Fleet Xpress or FleetBroadband or through a dedicated API that allows access to Fleet Data, Inmarsat's cloud-based IoT platform. This means shipowners and ship managers have more choice when it comes to IoT-based solutions, building on Inmarsat's maritime digital portfolio and Committed Information Rates.
The terms of the agreement offer HGS the opportunity to expand its digital total care solution to encompass different applications aimed at helping shipowners and ship managers to enhance ship efficiency and reduce operating costs.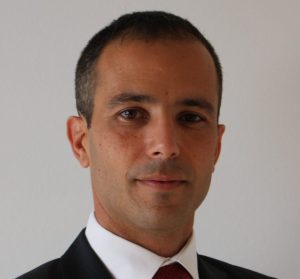 Stefano Poli, VP, Business Development, Inmarsat Maritime described the agreement with HGS as a significant milestone in the offering being made to third party service providers enabling maritime digitalisation. "The Hyundai-Inmarsat agreement is effectively the first of its kind and marks the commercial service introduction of Inmarsat's Fleet Xpress Dedicated Bandwidth Services as part of our portfolio of solutions for Certified Application Providers" he said. "With this new service, HGS is now strengthening its value proposition of applications to monitor and analyse ship performance for existing and new customers"
Since its launch in March 2016, Fleet Xpress has been installed on board around 7,000 ships, establishing itself as the market-leading maritime broadband connectivity option in commercial shipping. A report published in 2018 by market analyst Euroconsult indicated that Fleet Xpress was the fastest growing maritime VSAT service.
HGS has already signalled that it intends to extend its ship digitalisation offering into the retrofit market, with discussions continuing with Inmarsat on options to provide a bundle of connectivity, certified hardware, and HGS's Digital Transformation services as a 'Shipyard Service Package'.
For further information:
Jonathan Sinnatt
Corporate Communications
+44 (0)20 7728 1935​
press@inmarsat.com
Mark Warner
Inmarsat Maritime – Marketing & PR Director
+44 (0)20 7728 1654
mark.warner@inmarsat.com
Debbi Bonner
Managing Director, JLA Media
+31 (0)65 263 0122
debbi.bonner@j-l-a.com
About Inmarsat
Inmarsat is the world leader in global, mobile satellite communications. It owns and operates the world's best global portfolio of satellite networks, specifically designed for customer mobility, and holds a multi-layered, global spectrum portfolio, covering L-band, Ka-band and S-band, enabling unparalleled breadth and diversity in the solutions it provides. Inmarsat's long established global distribution network includes not only the world's leading channel partners but also its own strong direct retail capabilities, enabling end to end customer service assurance. The company has an unrivalled track record of operating the world's most reliable global mobile satellite networks, sustaining business and mission critical safety & operational applications for 40 years. It is also a major driving force behind technological innovation in mobile satellite communications, sustaining its leadership through a substantial investment and a powerful network of technology and manufacturing partners. Inmarsat operates across a diversified portfolio of sectors with the financial resources to fund its business strategy and holds leading positions in the Maritime, Government and Aviation satcoms markets, operating consistently as a trusted, responsive and high quality partner to its customers across the globe.
For further information, visit Inmarsat.com or follow us on LinkedIn or on Twitter @InmarsatGlobal.