21 September, 2017 – Inmarsat (ISAT.L) and Rolls-Royce (RR.L) have signed a Letter of Intent (LOI) to have the option to make the Rolls-Royce Energy Management system available via Inmarsat Maritime's Fleet Xpress high-speed broadband service, to reduce energy consumption and support environmental compliance.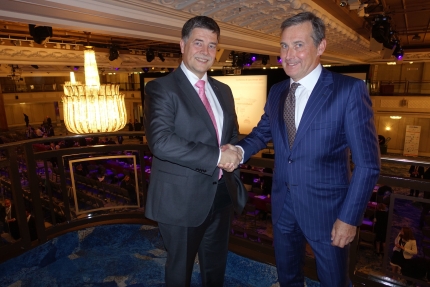 Ronald Spithout, President of Inmarsat Maritime and Mikael Makinen, President Marine of Rolls-Royce pictured during last week's London International Shipping Week.
With data collected from a multitude of ship control systems and equipment sensors, Energy Management 2.0 also benchmarks efficiency against historical performance.
Marco Camporeale, Rolls-Royce, Vice President, Intelligent Asset Management Solutions, commented "Monitoring ship fuel consumption and emissions is required by law in some areas and is also increasingly used in vessel selection criteria by charterers."
"Our Energy Management software quantifies the effects of optimising operational efficiency on costs and the true impact of enhancements as they are phased in. Fleet Xpress always-on connectivity and the potential for application-triggered bandwidth mean that data can be logged in real time, optimising the verifiable reporting capability already built in to Rolls-Royce Energy Management System software."
Vessels equipped with Rolls-Royce Energy Management software can operate within the Inmarsat Certified Application Provider programme (CAP), connected via Fleet Xpress and hosted on the Inmarsat Gateway platform; and then be able to maximise their efficiency in a way that is constantly verifiable and compliant with European Union (EU) Monitoring Reporting and Verification and the International Maritime Organisation (IMO) Ship Energy Efficiency Management Plan.
Fleet Xpress seamlessly combines the power of Inmarsat's Global Xpress network, the world's only high speed, mobile and globally available broadband service from a single operator, with its ultra-reliable L-band network by means of the Inmarsat Gateway. The Inmarsat Gateway, with its rich set of Application Programming Interfaces (APIs) provides application-triggered bandwidth, a managed-cyber security solution and flexible third-party subscriptions on board Fleet Xpress vessels.
Stein A. Orø, Vice President Sales, Inmarsat Maritime, said: "The CAP programme allows third parties to work with Inmarsat to develop content-rich applications to populate the digital maritime world enabled by Fleet Xpress. The combined Rolls-Royce and Inmarsat technological capabilities will deliver proven energy management software to shipowners with always-on connectivity."
Application-triggered bandwidth usage allows end-users to choose whether to dedicate part of their bandwidth allocation to specific vessel efficiency measures, or for the app itself to trigger bandwidth 'dynamically' by the hour.
Stein A. Orø said "In the case of Rolls-Royce, the LOI envisages remote monitoring to document environmental compliance, but new digital services can also be delivered to the maritime industry that create efficiencies for users and new revenue streams for vendors. Application-triggered bandwidth pricing means this can be completely transparent."
The arrangement could provide a template for other vendors seeking to exploit the potential of Fleet Xpress, which has already attracted commitment from over 10,000 commercial ships since its launch last year.
Stein A. Orø continued: "Rolls-Royce Marine has been a pioneer in a range of initiatives using satellite connectivity to enhance the efficiency of maritime transport. This is a milestone arrangement for Inmarsat, demonstrating that the true innovators in maritime technology recognise Fleet Xpress as enabling their own strategies for digitalisation."
About
Inmarsat
Inmarsat plc is the leading provider of global mobile satellite communications services. Since 1979, Inmarsat has been providing reliable voice and high-speed data communications to governments, enterprises and other organizations, with a range of services that can be used on land, at sea or in the air. Inmarsat operates around the world, with a presence in the major ports and centres of commerce on every continent. Inmarsat is listed on the London Stock Exchange (ISAT.L). For more information, please visit www.inmarsat.com.
The Inmarsat press release newsfeed and corporate updates are on @InmarsatGlobal.
About Rolls-Royce
Holdings plc
Rolls-Royce's vision is to be the market-leader in high performance power systems where our engineering expertise, global reach and deep industry knowledge deliver outstanding customer relationships and solutions. We operate across five businesses: Civil Aerospace, Defence Aerospace, Marine, Nuclear and Power Systems. Rolls-Royce has customers in more than 150 countries, comprising more than 400 airlines and leasing customers, 160 armed forces, 4,000 marine customers including 70 navies, and more than 5,000 power and nuclear customers.
https://www.flickr.com/photos/rolls-royceplc