03 September 2018 – Installations of global Fleet Xpress service to break through the 5,000-ship barrier in the next few weeks. Independent Euroconsult research confirms 2018 growth leader.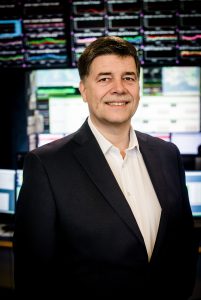 The digital transformation of the commercial shipping industry will pass a major milestone this September.  Inmarsat has today confirmed that the 5,000th ship installation of Fleet Xpress, the world's only high-speed, globally-available Ka-band VSAT service designed for mobility and available from a single operator, will be completed by the close of the month.
Following its launch in March 2016, Fleet Xpress has emerged as the market-leading pathway to digital transformation as shipping companies seek to deliver improved vessel and fleet efficiency, boost profitability and enhance seafarer wellbeing.
The latest data compiled by the respected, specialist market analyst, Euroconsult, indicates that six out of ten VSAT installations undertaken in the first half of 2018 were for Fleet Xpress.  Euroconsult's independent research also confirms that Inmarsat was the fastest growing VSAT provider to the maritime industry in the first six months of 2018, accounting for over 1,500 terminals out of an industry total of 2,550.
"The adoption of Fleet Xpress for so many vessels across the globe over such a short period of time indicates that it has become the key platform for converting industry talk into action on digitalisation," says Ronald Spithout, President, Inmarsat Maritime.
"It is the combination of greater bandwidth via the globally available Ka-band Global Xpress constellation and the proven reliability of our integrated FleetBroadband L-band service, which makes Fleet Xpress so compelling a choice. Since its launch, Inmarsat has had more than 10,000 vessels committed to Fleet Xpress, including from all of the major airtime providers such as Speedcast, Marlink, Navarino and Tototheo."
"The appetite within the maritime industry for digitalisation is underscored in new into Internet-of-Things (IoT)-based solutions across global supply chains," continues Spithout. "The 'Industrial IoT on Land and at Sea' report, published by Inmarsat in July based on independent market research by Vanson Bourne and drawing on responses from hundreds of participants across a range of sectors, reveals that shipping is no longer the IoT laggard of popular conception and, in some instances, is leading the way."
The upcoming 5,000th ship installation is evidence of how major ship operators are prioritising digitalisation and establishing remote fleet operation centres, as well as investing strongly in emerging technologies. "The example of major companies is spurring on smaller owners, who are rapidly closing the gap, to explore digital offerings and accelerate their efforts to exploit available efficiencies for competitive gain," continued Spithout.
"Many small and medium-sized vessel operators are at the start of their digital voyage. They are fully aware that their existing ship-to-shore communications infrastructure is not sufficient to realise their goals. Over the last two years, we have seen a growing willingness within this group to transition from legacy solutions to Fleet Xpress, as the compelling benefits of data-centric operations show themselves more clearly."
Notably, the global Fleet Xpress technology platform offers the flexible architecture that allows digital solutions providers to bear the cost of data and content delivery, thereby removing a barrier to the uptake of new services. Our committed data rate plans ensure that connectivity for running mission-critical operational services is always available.
A wide selection of subscription packages allows communication costs to be trimmed to match actual connectivity needs, which is one reason why Fleet Xpress has found favour in segments ranging from dredgers to research vessels and from commercial fishing boats to superyachts. Opportunities are also re-emerging in the offshore oil and gas sector, where rig and vessel utilisation prospects are looking up after nearly four years of low oil prices.
For further information:
Jonathan Sinnatt
Director of Corporate Communications
Inmarsat Corporate
+44 (0)20 7728 1492
press@inmarsat.com
Mark Warner
Head of Marketing
Inmarsat Maritime
+44 (0)20 7728 1654
mark.warner@inmarsat.com
Debbi Bonner
Managing Director
JLA Media
+31 (0)20 470 0619
debbi.bonner@j-l-a.com
About Inmarsat
Inmarsat is the leading provider of global mobile satellite communications services. Since 1979, Inmarsat has been providing reliable voice and high-speed data communications to governments, enterprises and other organisations, with a range of services that can be used on land, at sea or in the air. Inmarsat operates around the world, with a presence in the major ports and centres of commerce on every continent. Inmarsat is listed on the London Stock Exchange (ISAT.L).
The Inmarsat press release newsfeed and corporate updates are on @InmarsatGlobal.