15 June, 2017 – Unprecedented market response prompts more than fivefold expansion in installation port network for high-speed broadband service.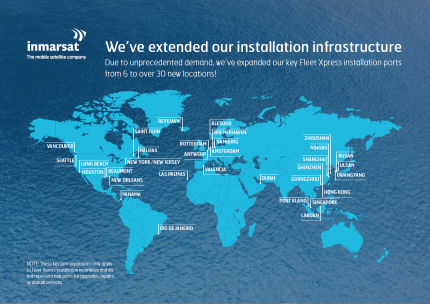 Inmarsat (LSE: ISAT.L) has responded to extraordinary levels of demand for its ground-breaking Fleet Xpress service by boosting from six to 33 the number of ports where a complete service installation with a flat fee is available. Fleet Xpress installation will now be available at 12 Asia Pacific ports, 11 in the Europe Middle-East and Africa region, and 10 ports in the Americas, with all work undertaken by Inmarsat-certified engineers.
Inmarsat's enhancement of its installation capabilities is part of the company's strategy to support the rapid global adoption of the unique Fleet Xpress service, which seamlessly combines the power of Inmarsat's Global Xpress network, the world's only high-speed, globally available broadband service from a single operator, and its ultra-reliable L-band network.
"The demand for Fleet Xpress connectivity has been huge since the commercial service launch just over a year ago, calling for new installation ports across Asia, Europe and the Americas," says Ronald Spithout, President, Inmarsat Maritime.
"The Fleet Xpress combination of high-speed broadband via Ka-band backed up by highly reliable L-band is transforming ship efficiency and crew welfare, and with the new installation network, we are able to respond to the accelerating demand for the service. Over 10,000 ships are now committed to Fleet Xpress."
Spithout says that Inmarsat will continue to prioritise the expansion of its global service capabilities in support of the surge in Fleet Xpress installations. He cites the role played by hardware partners Cobham and Intellian, and service agreements such as that recently announced with Radio Holland, as key to enabling fast industry transition to high-speed connectivity with Fleet Xpress.
"Fleet Xpress is the only fully-managed, high-speed broadband service in the maritime sector available from a single supplier, and supporting installations and the migration from Ku-based XpressLink to Fleet Xpress services is critical in service provision."
Thousands more vessels will require Fleet Xpress installation and servicing in the years ahead, as the industry shifts decisively towards high-speed broadband, data-heavy digital services and the Internet of Things. Extending the Inmarsat service network and the pool of experienced, skilled engineers available at the world's busiest ports demonstrates we will ensure that installations keep pace with demand, Spithout says.
Inmarsat also continues to incentivise end-users and strategic partners to fast-track Fleet Xpress installation and conversion. In a latest move, the satellite group has announced a flat fee charge of $3,000 for every vessel that commits to an installation date by 31 December 2017 at either an existing key port or one of its newly identified key ports. Inmarsat estimates that such a commitment could be worth up to $5,000 per vessel to a prospective customer, because it effectively waives fees that would otherwise be levied for preparation, administration and activation, as well as installer travel costs and waiting time.
The company is also ensuring that those waiting to convert from FleetBroadband to Fleet Xpress can benefit from enhanced operations and crew communication immediately by offering a 20% subscription discount on FleetBroadband upgrades to 20GB or 40GB plans.
"The major expansion in installation services and these new incentives signal Inmarsat's commitment to offer action rather than words in enabling shipping's early digitalisation," says Spithout. "The shift to Fleet Xpress is becoming decisive, consolidating Inmarsat's position as the driving force in the global maritime sector for connectivity at sea."
About
Fleet Xpress
Fleet Xpress delivers a unique, fully integrated dual capability of high speed, high capacity services (Global Xpress) together with high reliability safety-level services (FleetBroadband) in a single commercial package which is available anywhere in the world. Fleet Xpress is further enriched by Inmarsat Gateway, a unique service enablement platform designed to provide ship owners, managers and operators with access to a new generation of value-added maritime applications, services and solutions.
Inmarsat's maritime channel Partners include all the leading maritime communications resellers, providing global reach, customer intimacy and value-added capabilities in support of Fleet Xpress, and a well-managed pathway for Inmarsat's current FleetBroadband customers to migrate over time up to Fleet Xpress.
In 2017 Fleet Xpress won the Smart4Sea Excellent Award for technological excellence in smart shipping.
About
Global Xpress (GX)
Inmarsat's GX high-speed global broadband service is uniquely designed and optimised for superior mobility performance across multiple markets. GX is the only satellite broadband service in the market with global coverage through one operator, guaranteed data rates and an ultra-reliable L-band network that it can work with seamlessly. Inmarsat's global broadband network is designed, owned and operated by Inmarsat for seamless end-to-end performance. This "owner/ operator" approach ensures continued innovation and a robust business model, which does not rely on procuring more expensive third party capacity to meet customer demand.
About
Inmarsat
Inmarsat plc is the leading provider of global mobile satellite communications services. Since 1979, Inmarsat has been providing reliable voice and high-speed data communications to governments, enterprises and other organizations, with a range of services that can be used on land, at sea or in the air. Inmarsat operates around the world, with a presence in the major ports and centres of commerce on every continent. Inmarsat is listed on the London Stock Exchange (ISAT.L). For more information, please visit www.inmarsat.com. The Inmarsat press release newsfeed and corporate updates are on @InmarsatGlobal.