Launch of world's first global high-speed mobile broadband service driving expansion throughout the region
January 20, 2016 – The world's leading provider of global mobile satellite communications services, Inmarsat, has today opened its new Singapore office, which is the company's largest facility in Asia Pacific region.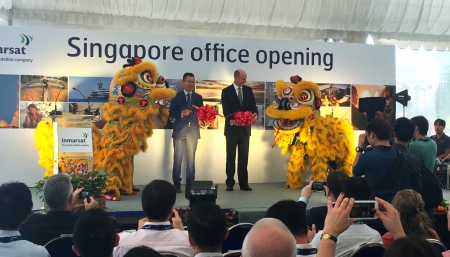 Inmarsat's investment in the 1,700 sq metre (19,500 sq feet) office in Toa Payoh, Central Region Singapore, sees the company's regional hub providing a new solutions lab, demonstration capabilities, training rooms, a knowledge centre and support centre, in addition to enhanced production and storage facilities.
The opening ceremony was attended by Inmarsat's CEO, Rupert Pearce, Mr Beh Kain Teik, Executive Director, Office for Space Technology and Industry (OSTIn), Singapore Economic Development Board along with many Inmarsat partners and customers.
"Demand for Inmarsat's mobile broadband services is increasing across the region and this facility reflects our confidence in the growth potential of Asia Pacific," said Rupert Pearce, CEO of Inmarsat. "Through this new facility, we are confirming our on-going commitment to Singapore as the base for our regional operations.
"With the start of global commercial services for our latest satellite fleet, Global Xpress (GX), at the end of last year, we expect to see demand increase still further. Alongside Inmarsat's core markets, including the Aviation, Enterprise, Government and Maritime industries, we are seeing significant interest in the potential of powerful, reliable satellite communications from sectors which have not previously used satellite communications.
"We are committed to investing in the support facilities that our partners and customers require in the same way in which we are continuing to invest in new generations of satellites. Last month we announced our investment in two Inmarsat-6 satellites which will combine both L-band and Ka-band frequencies, demonstrating our continued commitment to delivering robust L-band coverage and associated safety services, as well as extending the breadth and depth of Global Xpress with future Ka-band services."
Singapore has been Inmarsat's Asia Pacific headquarters since 2008. The company confirmed that its decision to invest in a new and expanded facility was driven in particular by Singapore's outstanding infrastructure, its innovative culture and the deep pool of talent on which the company can draw as its expansion in Asia Pacific gathers pace.
Coinciding with the opening of the new office, Inmarsat announced that it has signed an agreement with local partner SingTel for the provision of Inmarsat's L-TAC services, enabling SingTel to provide beyond line of sight (BLOS) mobile communications to a broad range of government users in the Asia Pacific region. The contract enhances Inmarsat and SingTel's relationship in the government sector.
Key Singapore partners and customers of Inmarsat include: SingTel, Singapore Airlines, roKKi, AddValue, iDirect, ST Engineering, MediaCorp, Kemilinks International, Jason Electronics, EMAS, POSH and BSM.
About Inmarsat
Inmarsat plc is the leading provider of global mobile satellite communications services. Since 1979, Inmarsat has been providing reliable voice and high-speed data communications to governments, enterprises and other organizations, with a range of services that can be used on land, at sea or in the air. Inmarsat employs around 1,600 staff in more than 60 locations around the world, with a presence in the major ports and centres of commerce on every continent. Inmarsat is listed on the London Stock Exchange (LSE:ISAT.L). For more information, please visit www.inmarsat.com.
The Inmarsat press release newsfeed is on Twitter @InmarsatGlobal