26 September, 2017 – The new single SIM subscription plan represents the latest Inmarsat initiative to enhance vessel performance for Pacific North West fishers, while also ensuring the safety of those at sea. The targeted offer covers the Gulf of Alaska, South East Alaska, and the North West Canadian and US coastal area (Washington, Oregon, and California), as well as parts of the Bering Sea*.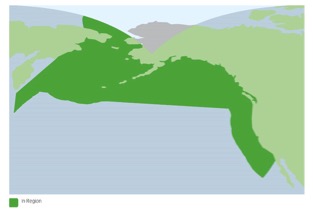 Figure 1 Pacific Northwest Fishing Plan
Coverage Map
* Russian territorial waters and the area surrounding the Bering and Medny Commander islands off the Kamchatka peninsula are considered out-of-region areas.
It delivers free Fleet One-to-Fleet One voice calls for up to 30 minutes, Pay-as-you-go IP data and the seasonal flexibility to suspend services during inactive periods. "We are continually looking at ways to improve our services and, following customer feedback we're delighted to offer a streamlined Fleet One Fishing Plan to regional fishers via the world's most advanced commercial global mobile satellite network," says Eric Griffin, VP Sales Americas, Inmarsat Maritime. "Fleet One delivers always-available connectivity as required for navigation and weather information, e-logs and tracking, as well as general applications. It allows fishing vessels to use the same platform for smartphone and tablet connectivity via WiFi as they do for business-critical applications like VMS, email and VPN.
"Fleet One makes it possible to achieve greater vessel efficiency, improve seafarer connectivity and meet regulatory obligations on catch data through a single solution which is easy to install and requires no specialist skills to run. WiFi routing also means that seafarers' own mobile devices can be used over a satellite link fully protected by a firewall."
Using L-Band, Fleet One is specifically designed to provide reliable connectivity to low data usage customers operating routinely or intermittently outside VHF or GSM coverage areas. By delivering simultaneous voice and IP data at up to 100 kbps to vessels, it puts satellite broadband within reach of any vessel without users having to worry about network roaming charges. Fleet One has been proven as offering 99.9% availability globally. It also fully supports the free voice distress calls (505) at point of use for safety at sea, which Inmarsat Maritime offers as a public service to the maritime industry.
Inmarsat is working with the fisheries industry across the world to bring a new level of connectivity onboard, to help combat illegal, unreported and unregulated fishing, ensure compliance, improve data transfer, quality and reliability, and enhance crew safety. As part of this initiative in August Inmarsat announced a partnership with the United States Agency for International Development's Oceans and Fisheries Partnership (USAID Oceans) to help commercial fishing crews promote sustainable fishing in Southeast Asia. For further information click here.
About
Inmarsat
Inmarsat plc is the leading provider of global mobile satellite communications services. Since 1979, Inmarsat has been providing reliable voice and high-speed data communications to governments, enterprises and other organisations, with a range of services that can be used on land, at sea or in the air. Inmarsat operates in more than 60 locations around the world, with a presence in the major ports and centres of commerce on every continent. Inmarsat is listed on the London Stock Exchange (ISAT.L).
The Inmarsat press release newsfeed and corporate updates are on @InmarsatGlobal.