The award recognises the Inmarsat Maritime Safety team's commitment to enhancing global search-and-rescue capabilities through a combination of advanced technology, training, and expert support.
19 October 2023 – Inmarsat Maritime, a Viasat business, has won the 2023 International Maritime Rescue Federation (IMRF) Award for Innovation and Technology in Maritime Search and Rescue after a highly respected judging panel led by former IMRF Chair Michael Vlasto selected its entry from a shortlist of 10 individuals and organisations.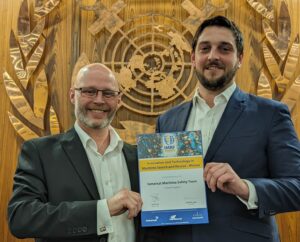 Acknowledging "volunteer and professional search-and-rescue (SAR) personnel from around the world", the prestigious award highlights "those who have shown excellence in their field, developed innovative technology and equipment, or acted as a role model to inspire others".
Ben Palmer, President, Inmarsat Maritime, said "The Inmarsat Maritime Safety team works tirelessly to ensure that global satellite SAR capabilities are maintained to a standard above and beyond what is expected by the International Maritime Organization, and this award is testament to those efforts. As the safety challenges facing shipping continue to evolve, I have full faith in my colleagues' ability to help drive maritime safety standards to new levels through a combination of technology, training, and expert support."
The Inmarsat Maritime Safety team design and develop services to support SAR operations, such as the recently launched RescueNET, which delivers fast, reliable, and approved SAR communications from ship to shore, from shore to ship, and between maritime rescue coordination centres (MRCCs).
To help users take full advantage of the capabilities offered by RescueNET and other Inmarsat safety services, the team provide training to SAR authorities worldwide and have created free online training packages for organisations to learn and test their capabilities using satellite services. They also participate in global SAR exercises to offer recommendations for change and provide support in capacity building and training within established and developing MRCCs.
Peter Broadhurst said "It is a great honour to accept the IMRF Award for Innovation and Technology in Maritime Search and Rescue. I would like to thank my colleagues on the Inmarsat Maritime Safety team and the Network Operations team for offering their expertise and unwavering commitment to such a critical cause. From its foundation in 1979, Inmarsat has been supporting the global SAR community with every means available to us. While significant progress has been made in recent decades, safety at sea can never be taken for granted."
The Inmarsat Maritime Safety team are on call around the clock to assist in SAR efforts – even those not initiated by Inmarsat equipment – and have developed relationships and procedures between Inmarsat and SAR organisations to enhance tracking and communication during operations. In addition, they have created an SAR API to streamline SAR communications and their integration into operational systems. Emphasising their commitment to maritime safety, they have achieved all of the above with no cost to the SAR community.
About Viasat
Inmarsat Maritime is now a Viasat business and continues to power the digitalisation of the maritime industry, making operations more efficient and safer than ever before. Viasat is a global communications company that believes everyone and everything in the world can be connected. With offices in 24 countries around the world, our mission shapes how consumers, businesses, governments and militaries around the world communicate and connect. Viasat is developing the ultimate global communications network to power high-quality, reliable, secure, affordable, fast connections to positively impact people's lives anywhere they are—on the ground, in the air or at sea, while building a sustainable future in space. On May 30, 2023, Viasat completed its acquisition of Inmarsat, combining the teams, technologies and resources of the two companies to create a new global communications partner. Learn more at www.viasat.com, the Viasat News Room or follow us on Facebook, Instagram, LinkedIn, X or YouTube.
Inmarsat Maritime is based in Viasat's global international business headquarters in London, United Kingdom. For further information about Inmarsat Maritime, follow us on LinkedIn.