22 November, 2017 (Norway)– New Norway operation to focus on driving digitalisation of shipping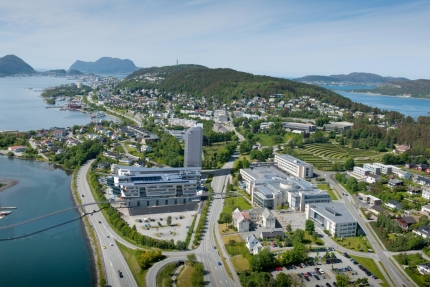 Ålesund office
Inmarsat (LSE: ISAT.L), the world's leading global mobile satellite communications company, has opened a new office, at the Norwegian Maritime Competence Center (NMCC) based in Ålesund, Norway, to continue to drive the digitalisation of the shipping industry.
The opening of the facility in the heart of Norway's leading edge maritime community, signals Inmarsat's intention to intensify work with third party innovators and digital disrupters to exploit high-speed broadband via Fleet Xpress through its Certified Applications Provider (CAP) programme.
The maritime hub at NMCC, which is part of the Norwegian University of Science and Technology campus is recognised for its technical excellence, and is home to the influential Blue Maritime Cluster, whose members are leading the drive in remote monitoring equipment on board vessels and the use of data analytics for real-time decision making.
Inmarsat CEO, Rupert Pearce said: "Inmarsat Maritime is driving digital best practice across tens of thousands of ships. The future of the connected ship lies in networks such as Fleet Xpress, brought to market at scale. Fleet Xpress enables application-triggered bandwidth, which will be key to converting today's smart and connected ship into tomorrow's 'smart fleet'."
Inmarsat recently signed a Letter of Intent to enable the Rolls-Royce Energy Management System (EMS) via Fleet Xpress. Rolls-Royce is also based at the Ålesund NMCC, where it oversees its remote monitoring, data analysis, and ship performance strategy. Using the always-on connectivity of Fleet Xpress, EMS data is logged in real time so that its management software can optimise operational efficiency via its built-in verifiable reporting capability.
Ronald Spithout, President of Inmarsat Maritime, said: "Ålesund opens a new chapter for the CAP programme and Inmarsat's strategy to work with third parties on content-rich applications to populate the digital maritime world enabled by Fleet Xpress."
"We welcome all partners, whether their motivation is to develop greater operational efficiency, improve crew welfare, IT and security, or regulatory compliance. In addition to creating new revenue streams for partners, application-triggered bandwidth allows users to choose to dedicate connectivity to specific efficiency measures or for the application to trigger bandwidth 'dynamically' and transparently."
Fleet Xpress combines Inmarsat's Global Xpress high speed data network operating on Ka-band with the ultra-reliable FleetBroadband service on L-band. Inmarsat Maritime is seeking to increase the penetration of Fleet Xpress services in the superyacht, cruise ship and offshore rig markets, Spithout adds. "With 10,000 vessels committed for installation, Fleet Xpress is already enabling the merchant maritime industry to join the connected world, and we are only at the start of digitalisation in the industry," he says.
About
Inmarsat
Inmarsat plc is the leading provider of global mobile satellite communications services. Since 1979, Inmarsat has been providing reliable voice and high-speed data communications to governments, enterprises and other organisations, with a range of services that can be used on land, at sea or in the air. Inmarsat operates in more than 60 locations around the world, with a presence in the major ports and centres of commerce on every continent. Inmarsat is listed on the London Stock Exchange (ISAT.L).
The Inmarsat press release newsfeed and corporate updates are on @InmarsatGlobal.