16 November, 2016 – Mohammed Drissi, the International Maritime Organization's (IMO) regional coordinator for the Rabat search and rescue (SAR) region was presented with the first Inmarsat 'Vladimir Maksimov Award for Outstanding Achievement' at the International Maritime Rescue Federation (IMRF) H.E.R.O. (Honouring Excellence in Rescue Operations) Awards 2016, announced yesterday.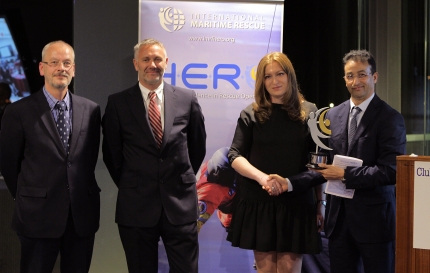 Pictured (l-r), Udo Fox, Trustee & Chairman IMRF, Peter Broadhurst, Senior Vice President for Safety and Security, Inmarsat Maritime, Natalia Maksimov, and Award Winner Mohammed Drissi, IMO regional coordinator for the Rabat search and rescue (SAR) region.
Mr Drissi received the award in recognition of his outstanding contribution as IMO Regional Coordinator for the Rabat region, which monitors and coordinates SAR activities in Morocco and six bordering countries.
The event was held jointly in Washington, USA and Lisbon, Portugal.
Award judges commended Mr Drissi's selfless efforts in fostering the development of SAR management and coordination capabilities of the Rabat SAR region and across Africa more widely. Over the past 12 months he expanded his work bringing in the Liberian rescue coordination centre (RCC) Region, five additional countries, as well as involving observers from Nigeria. He successfully secured funding from the IMO for joint SAR management training in the countries, strengthened the provision at grass roots level of regional trainers who provide basic training in the Global Maritime Distress and Safety System (GMDSS) and SAR operations, and, in June of this year, oversaw the organisation of a large-scale 'Mass Rescue Operation' SAR exercise.
The H.E.R.O. Awards, launched by the IMRF in April this year, have been developed to draw attention to the extraordinary work done to save lives in maritime SAR across the world. Their aim is to recognise and show gratitude for courage and exceptional performance, both by individuals and organisations, and progress IMRF's mission to improve global maritime SAR and prevent loss of life.
"These Awards recognise individuals for courageous rescue missions, but they also celebrate the vital work done by those responsible for the support networks and organisations which enable such missions," said Peter Broadhurst, Senior Vice President for Safety and Security, Inmarsat Maritime.
Vladimir Maksimov was also posthumously recognised with a H.E.R.O Lifetime Achievement Award for his contribution to maritime safety. Mr Maksimov, who passed away earlier this year, worked tirelessly on the continuing development of GMDSS over the course of a 25-year career at Inmarsat, and played a central role in the Inmarsat safety team.
Mr Maksimov's daughter, Natalia Maksimov, attended the event in Lisbon to present the new award and accept the posthumous recognition award. She said: "On behalf of my family, I would like to thank Inmarsat and IMRF for such an incredible and touching tribute to my father. I am honoured to be able to accept the Vladimir Maksimov lifetime achievement award for 2016 on behalf of my Father, and also present the outstanding achievement award. I would like to pass on my sincere congratulations to Mr Drissi, who like my Father is a real hero and deserves recognition and praise for his hard work, dedication and commitment. With this award in his name, his legacy of wisdom, integrity and courage will go on long beyond his time here with us."
About
Inmarsat
Inmarsat plc is the leading provider of global mobile satellite communications services. Since 1979, Inmarsat has been providing reliable voice and high-speed data communications to governments, enterprises and other organizations, with a range of services that can be used on land, at sea or in the air. Inmarsat operates in more than 60 locations around the world, with a presence in the major ports and centres of commerce on every continent. Inmarsat is listed on the London Stock Exchange (ISAT.L). For more information, please visit www.inmarsat.com.
The Inmarsat press release newsfeed and corporate updates are on @InmarsatGlobal.
About the
IMRF H.E.R.O. Awards
The H.E.R.O. Awards 2016 aim to:
• raise awareness of work done by all those involved in maritime SAR, with the aim of increasing Government, commercial and public recognition, support and funding
• reward the selfless efforts and achievements of individuals who make sacrifices to save lives, on the water or in support
• raise awareness of innovative SAR products, technologies and processes
• raise awareness of the role and responsibilities of the IMRF.