Agreement will see Greek-based Company provide formal representation for customer and product support activities for client contracts purchased from Speedcast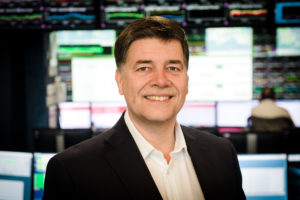 31 March 2021 – Inmarsat, the world leader in global, mobile satellite communications, has signed an agreement with SRH Marine Electronics for SRH to provide formal representation for support to customers in Greece and Cyprus, whose Inmarsat Maritime contracts were purchased from Speedcast by Inmarsat at the beginning of this year.
"Following the rapid and successful migration of the services of all these customers as part of the agreement with Speedcast, we are now delighted to have put in place a formal agreement for customer support with SRH Marine Electronics for Greek and Cypriot customers that will provide those customers with full local representation going forward," said Ronald Spithout, President, Inmarsat Maritime.
The agreement will include customer support for Inmarsat's Fleet Network Manager (formerly Sigma) portfolio of hardware products and only covers clients who held Inmarsat Maritime contracts formerly with Speedcast.
"We are delighted to sign this agreement with Inmarsat and look forward to providing a high-level of account management and customer support to this set of unique customers in Greece and Cyprus," said Theodoros Nikolopoulos, Managing Director of SRH Marine Electronics.
Contacts
Media Enquiries:
Jonathan Sinnatt/Matthew Knowles
Corporate Communications
Tel: +44 (0)20 7728 1518/1355
press@inmarsat.com
Mark Warner
Marketing and PR Director, Inmarsat Maritime
+44 (20) 7728 1654
mark.warner@inmarsat.com
Debbi Bonner
Managing Director, JLA Media Ltd
+31 (0)652 630122
debbi.bonner@j-l-a.com
About Inmarsat
Inmarsat is the world leader in global, mobile satellite communications. It owns and operates the world's most diverse global portfolio of mobile telecommunications satellite networks, and holds a multi-layered, global spectrum portfolio, covering L-band, Ka-band and S-band, enabling unparalleled breadth and diversity in the solutions it provides. Inmarsat's long-established global distribution network includes not only the world's leading channel partners but also its own strong direct retail capabilities, enabling end to end customer service assurance.
The company has an unrivalled track record of operating the world's most reliable global mobile satellite telecommunications networks, sustaining business and mission critical safety & operational applications for more than 40 years. It is also a major driving force behind technological innovation in mobile satellite communications, sustaining its leadership through a substantial investment and a powerful network of technology and manufacturing partners.
Inmarsat operates across a diversified portfolio of sectors with the financial resources to fund its business strategy and holds leading positions in the Maritime, Government, Aviation and Enterprise satcoms markets, operating consistently as a trusted, responsive and high-quality partner to its customers across the globe.