05 September, 2017 – Inmarsat (LSE: ISAT.L) has signed a ground-breaking Memorandum of Understanding (MoU) with Samsung Heavy Industries ("SHI"), establishing a relationship to leverage the 'smart ship' connectivity offered by Fleet Xpress at the vessel construction stage.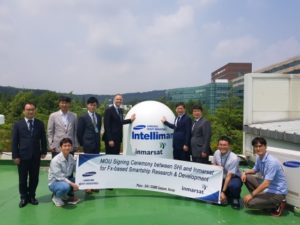 SHI SteinThe strategic agreement envisages the leading South Korean yard installing Inmarsat-approved terminal hardware and offering applications to cover remote machinery diagnostics and CCTV services, to leverage the satellite communications platform's capabilities from the moment the ship is delivered.
The new service, which has been christened 'Smart Ship' by SHI, will allow owners to enhance efficiency by harvesting data from hull-monitors and equipment sensors onboard in real-time, utilising Inmarsat's dedicated bandwidth for Certified Application Providers (CAPs).
"Uptake of Fleet Xpress has been phenomenal since its launch in 2016 with over 10,000 vessels now committed to using the service," said Ronald Spithout, Inmarsat Maritime President. "This agreement with SHI represents a new chapter in the story of smart shipping and the connected vessel.
"The Fleet Xpress service allows SHI to build-in new levels of vessel efficiency. This agreement demonstrates that the most forward-looking shipbuilders recognise collaboration as the key to shipping's exploitation of the Internet of Things. It is also further evidence that Inmarsat and its partners are driving shipping towards value-added applications that are set to digitalise the industry and modes of operation."
Subject to a definitive agreement, SHI will retain remote connections to vessels, while Inmarsat will support SHI's services through a dedicated Certified Application Provider subscription.
"Samsung Heavy Industries Co. considers itself to be a technology leader which has always worked closely with owners to deliver ships that are smart, safe, efficient and sustainable," said Dr. Booki Kim, Director of Central Research Institute, Samsung Heavy Industries & Construction Co. "However, the smart ship of today demands intelligent solutions to cover remote operational management and equipment monitoring, and continuous lifecycle services to extend its life. As a global shipbuilder, SHI is partnering with Inmarsat in a mutual growth opportunity to deliver more competitive, next generation satellite-based vessel operations."
One of the most diversified builders of commercial ships in the world, SHI takes pride in its role as a supplier of high-tech, high-value ships. Its position as the world's No. 1 builder of drill ships, Ultra Large Container Carriers, LNG carriers and Floating Production Storage and Offloading helps support its additional expertise in ship network systems, fuel gas supply and storage systems and ballast water management systems.
Through its Certified Application Provider (CAP) programme, Inmarsat aims to support and enable products that become part of an eco-system of applications to broaden and enhance services beyond connectivity and enable 'value-adds' for end-users. Applications covering real-time analysis of data for engine monitoring, weather information and fuel consumption rates can deliver real gains in operational efficiency, safety and compliance, IT security and crew welfare.
The CAP programme is part of Inmarsat's strategy to support the global adoption of the Internet of Things (IoT) in the maritime market, using the unique Fleet Xpress service.
Fleet Xpress seamlessly combines the power of Inmarsat's Global Xpress network, the world's only high speed, mobile and globally available broadband service from a single operator, with its ultra-reliable L band network by means of the Inmarsat Gateway. The Inmarsat Gateway, with its rich set of Application Programming Interfaces (APIs) provides application-triggered bandwidth, a managed-cyber security solution and flexible third-party subscriptions on board Fleet Xpress vessels.
About
Fleet Xpress
Fleet Xpress delivers a unique, fully integrated dual capability of high speed, high capacity services (Global Xpress) together with high reliability safety-level services (FleetBroadband) in a single commercial package which is available anywhere in the world. Fleet Xpress is further enriched by Inmarsat Gateway, a unique service enablement platform designed to provide ship owners, managers and operators with access to a new generation of value-added maritime applications, services and solutions.
Inmarsat's maritime channel Partners include all the leading maritime communications resellers, providing global reach, customer intimacy and value-added capabilities in support of Fleet Xpress, and a well-managed pathway for Inmarsat's current FleetBroadband customers to migrate over time up to Fleet Xpress.
In 2017 Fleet Xpress won both the Smart4Sea Excellent Award for technological excellence in smart shipping as well as the Seatrade Award for Digital Technology.
About
Inmarsat
Inmarsat plc is the leading provider of global mobile satellite communications services. Since 1979, Inmarsat has been providing reliable voice and high-speed data communications to governments, enterprises and other organizations, with a range of services that can be used on land, at sea or in the air. Inmarsat operates around the world, with a presence in the major ports and centres of commerce on every continent. Inmarsat is listed on the London Stock Exchange (ISAT.L). For more information, please visit www.inmarsat.com.
The Inmarsat press release newsfeed and corporate updates are on @InmarsatGlobal.