4 July, 2017 – The Fleet Xpress service from Inmarsat (LSE: ISAT.L) has secured the prestigious Seatrade Award 2017 for Digital Technology, one of the maritime industry's leading honours, which recognises technical innovation.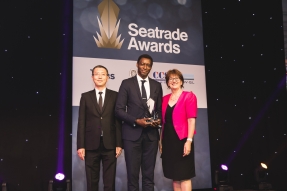 Collected by Drew Brandy, Senior Vice President, Market Strategy, Inmarsat Maritime. Presented by Mr Zhang Hui, Director, European Regional Centre, China Classification Society and Vanessa Stephens, Global Events Director and Managing Director Middle East and Indian Sub-Continent, Seatrade
Given to acknowledge the most significant contribution to "moving the maritime industry along the digital technology track", the Seatrade 2017 Digital Technology Award winner is selected by a special panel of judges, appointed by Seatrade for their knowledge of "Intelligent Shipping".
Inmarsat Maritime Senior Vice President Market Strategy, Drew Brandy, accepted the Award on June 30th. He said: "This is a reward for our entire Inmarsat team, recognising the extraordinary work behind the development, launch and delivery to market of Fleet Xpress. Setting a new standard in maritime communications, Fleet Xpress constitutes shipping's real-world digital revolution, bringing unrivalled vessel efficiency and communication benefits to crew, and reinforcing our firm commitment to the future of connectivity at sea. With more than 10,000 ships now committed to Fleet Xpress, this award underpins the success of the service."
Fleet Xpress is the first and only globally-available, high-speed satellite network owned and managed by a single operator. It is the truly innovative service platform that is delivering the benefits of continuous connectivity, big data and 'digital disruption' to shipping.
Mr Brandy said that the rapid uptake of Inmarsat Maritime's Fleet Xpress since its launch in March 2016 demonstrated that shipping can participate fully in the digital revolution, at a time when the term 'innovation' is often overused in the maritime industry. Fleet Xpress delivers game-changing maritime connectivity, enabling a powerful combination of vessel efficiency gains and improved business intelligence analytics that changes the way shipping does business, he said.
"Having already attracted commitments from over 10,000 ships to Fleet Xpress, we would like to thank Seatrade's panel of experts for acknowledging the hard work that has gone into the Fleet Xpress success story," Mr Brandy added. Earlier in 2017 Fleet Xpress won the Smart4Sea Excellent Award for technological excellence in smart shipping.
Fleet Xpress combines Inmarsat's latest Ka-band satellite constellation – Global Xpress – and the proven reliability of Inmarsat's FleetBroadband L-band service providing unlimited back-up for continuous connectivity. This ensures ship owners seamless global mobility, guaranteed performance and controlled costs, within fully-managed support agreements. It is enriched by Inmarsat Gateway, shipping's first service enablement platform that is purpose-designed to bring access to a new generation of value-added applications, services and solutions.
The Inmarsat Gateway opens the way for software developers to offer content-rich applications that drive smarter shipping, perform real-time analysis of data including equipment and fuel consumption monitoring, enable weather forecasting and voyage planning, and bring crew safety/coms gains. The first app to be made available through Fleet Xpress will be Inmarsat's managed Unified Threat Management cyber security solution, developed to bring protection and peace of mind to owners and operators alike.
Collected by Drew Brandy, Senior Vice President, Market Strategy, Inmarsat Maritime. Presented by Mr Zhang Hui, Director, European Regional Centre, China Classification Society and Vanessa Stephens, Global Events Director and Managing Director Middle East and Indian Sub-Continent, Seatrade
About
Fleet Xpress
Fleet Xpress delivers a unique, fully integrated dual capability of high speed, high capacity Global Xpress service together with high reliability safety-level services (FleetBroadband) in a single commercial package which is available anywhere in the world. Fleet Xpress is further enriched by Inmarsat Gateway, a unique service enablement platform designed to provide ship owners, managers and operators with access to a new generation of value-added maritime applications, services and solutions.
Inmarsat's maritime channel Partners include all the leading maritime communications resellers, providing global reach, customer intimacy and value-added capabilities in support of Fleet Xpress, and a well-managed pathway for Inmarsat's current FleetBroadband customers to migrate over time up to Fleet Xpress.
About
Global Xpress (GX)
Inmarsat's GX high-speed global broadband service is uniquely designed and optimised for superior mobility performance across multiple markets. GX is the only satellite broadband service in the market with global coverage through one operator, guaranteed data rates and an ultra-reliable L-band network that it can work with seamlessly. Inmarsat's global broadband network is designed, owned and operated by Inmarsat for seamless end-to-end performance. This "owner/ operator" approach ensures continued innovation and a robust business model, which does not rely on procuring more expensive third party capacity to meet customer demand.
About
Inmarsat
Inmarsat plc is the leading provider of global mobile satellite communications services. Since 1979, Inmarsat has been providing reliable voice and high-speed data communications to governments, enterprises and other organizations, with a range of services that can be used on land, at sea or in the air. Inmarsat operates around the world, with a presence in the major ports and centres of commerce on every continent. Inmarsat is listed on the London Stock Exchange (ISAT.L). For more information, please visit www.inmarsat.com.
The Inmarsat press release newsfeed and corporate updates are on @InmarsatGlobal.