Inmarsat's I-6 F1 satellite has connected to new ground stations in Perth and Merredin, Western Australia, as the company aims to provide a revolutionary upgrade in communications availability for the region.
16 March 2023 – Experts at Inmarsat, a world leader in global, mobile satellite communications, have successfully connected the company's I-6 F1 satellite to new ground stations in Western Australia. It marks a crucial milestone as the company upgrades its communications availability in the fast-growing Asia-Pacific (APAC) region.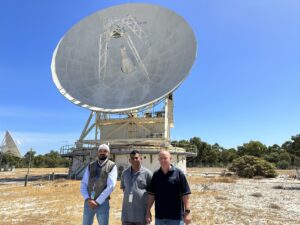 I-6 F1 launched in December 2021 and spent seven months travelling to geostationary orbit above the Atlantic, using its all-electric propulsion system. After rigorous in-orbit testing in the second half of 2022, the spacecraft is now at its final orbital slot above the Indian Ocean. The company will begin increasing its capacity and transition services to the new satellite throughout 2023, beginning with the first customers from Q2.
The announcement follows the successful launch of I-6 F1's twin – I-6 F2 – which lifted off from Cape Canaveral in February. Like F1, I-6 F2 will reach its geostationary orbital slot later this year, where it will undergo in-orbit-testing. The satellite will enter operational service over Europe, Africa, and much of the Americas in mid-2024.
Built in the UK, the I-6 satellites are the most technologically advanced commercial communications satellites ever launched. They are also the company's first hybrid satellites, featuring both L-band (ELERA) narrowband and Ka-band (Global Xpress) high-speed broadband communications payloads.
Each of the I-6 satellites offer 50% more L-band capacity than Inmarsat's entire 1-4 generation of ELERA satellites, effectively doubling its total ELERA capacity. They also provide 20 Ka-band spot beams that can be directed to meet customer demand second-by-second.
The announcement adds further capabilities to Inmarsat's ORCHESTRA communications network; a unique, global, multi-dimensional, dynamic mesh network that will redefine connectivity at scale with the highest capacity for mobility worldwide. ORCHESTRA enables Inmarsat's partners and customers to keep pace with their growing data demands and enables them to empower emerging technologies in the future, like autonomous vehicles or flying taxis.
Peter Hadinger, Chief Technology Officer, Inmarsat, said: "We are seeing rising demand for our services across the board, as airlines offer faster services for passengers, shipping companies use automated navigation, and industries aim to decarbonise through the Internet of Things."
"Our I-6 satellites are designed to meet that demand into the 2040s over two of the busiest regions in the world, as we enable a smarter, more connected society. Having double the beams, 50% more spectrum per beam and double the power of our I-4 satellites, the I-6s' advanced processors can match customer demand as and where it is needed in real-time."
ABOUT INMARSAT
Inmarsat delivers world leading, innovative, advanced and exceptionally reliable global, mobile communications across the world – in the air, at sea and on land – that are enabling a new generation of commercial, government and mission-critical services. Inmarsat is powering the digitalisation of the maritime industry, making operations more efficient and safer than ever before. It is driving a new era of inflight passenger services for aviation, while ensuring that aircraft can fly with maximum efficiency and safety. Furthermore, Inmarsat is enabling the rapid expansion of the Internet of Things (IoT) and enabling the next wave of world-changing technologies that will underpin the connected society and help build a sustainable future. And now Inmarsat is developing the first-of-its-kind, multi-dimensional communications network of the future, ORCHESTRA.
In November 2021, Inmarsat and Viasat announced the planned combination of the two companies, to create a new leader in global communications.
For further information, follow us: Twitter | LinkedIn | Facebook | YouTube | Instagram.