Intellian and Inmarsat sign agreement for development of next generation Maritime Safety Terminal
23 October 2023 – Pyeongtaek, South Korea. Intellian Technologies, Inc., the leading global technology and solutions provider for satellite communications and Inmarsat Maritime, a Viasat business, have today signed a Memorandum of Understanding (MOU) for the development of a next generation GMDSS safety terminal, designed for operation over Inmarsat's ELERA L-band network.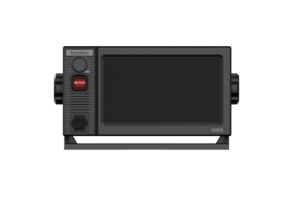 The new safety terminals will become the standard Inmarsat Maritime product for the next generation Fleet Safety service and will fulfil the requirements and performance standards of the International Maritime Organization (IMO), as part of a range of maritime SOLAS approved ship borne equipment including Global Maritime Distress and Safety System (GMDSS), Long-Range Identification and Tracking (LRIT) system and Ship Security Alert System (SSAS).
Intellian's GMDSS terminal will help to significantly enhance the safety of lives for the 1.9 million seafarers at sea around the world, and will be one the most technological advancements in safety services since the introduction of Inmarsat-C in 1991. The new safety terminal will allow a digital era of safety services to improve both preventative and reactive communications.
In addition to offering reliable access to Fleet Safety services, which includes an innovative Maritime Safety Information interface, the terminal features a Distress Chat function among its enhanced capabilities. This function automatically alerts the nearest Maritime Rescue Coordination Centre (MRCC) in case of an emergency on board, ensuring swift and coordinated response efforts. It also notifies nearby vessels, creating a network of support during critical situations.
Eric Sung, CEO of Intellian Technologies Inc., said: "We're particularly proud of the development of this new GMDSS terminal and to have been entrusted by Inmarsat to develop this major innovation to their maritime safety portfolio. It's a testament to our great partnership with Inmarsat, developing solutions that are innovative and reliable for customers all over the world. Our next-generation terminal that will vastly improve the safety of lives at sea for the 1.9 million seafarers and over 20 million passengers annually protected by the International Maritime Organization's policies. For our customers from shipyards to those going through a system upgrade, they'll be able to have a complete Intellian solution on board."
Peter Broadhurst, Senior Vice President Safety & Regulatory at Inmarsat Maritime, said: "Intellian has been a trusted partner of Inmarsat in advancing maritime communications, and we are excited to collaborate with them on the new Inmarsat Fleet Safety GMDSS terminal. This development represents a significant milestone in enhancing the safety of seafarers & passengers worldwide, and it underscores Inmarsat's commitment to providing innovative and reliable solutions for the maritime industry and protecting lives at sea."
About Intellian Technologies, Inc.
Intellian is driven by a passion for innovation and an agile responsiveness to customer needs. As the crucial link between satellite networks and millions of people on Earth, Intellian's leading technology and antennas empower global connectivity across oceans and continents, organizations and communities. Strategic thinking, an obsession with quality and a proven ability to deliver enables Intellian to invent for the future, creating mutual success for partners and customers as the world's connectivity needs evolve. For more information, follow @intellian and visit intelliantech.com. Intellian Technologies Inc. is listed on the Korean Stock Exchange, KOSDAQ (189300:KS)
About Viasat
Inmarsat Maritime is now a Viasat business and continues to power the digitalisation of the maritime industry, making operations more efficient and safer than ever before. Viasat is a global communications company that believes everyone and everything in the world can be connected. With offices in 24 countries around the world, our mission shapes how consumers, businesses, governments and militaries around the world communicate and connect. Viasat is developing the ultimate global communications network to power high-quality, reliable, secure, affordable, fast connections to positively impact people's lives anywhere they are—on the ground, in the air or at sea, while building a sustainable future in space. On May 30, 2023, Viasat completed its acquisition of Inmarsat, combining the teams, technologies and resources of the two companies to create a new global communications partner. Learn more at www.viasat.com, the Viasat News Room or follow us on Facebook, Instagram, LinkedIn, X or YouTube.
Inmarsat Maritime is based in Viasat's global international business headquarters in London, United Kingdom. For further information about Inmarsat Maritime, follow us on LinkedIn.