15 February 2023 – Insurer Sunderland Marine is playing its part in helping to protect wildlife and the coastal environment surrounding its corporate headquarters in the UK's North East.Part of global marine insurer North P&I, the 140-year-old insurer has donated funds to help launch a new project aimed at clearing up fishing line discarded along the shoreline.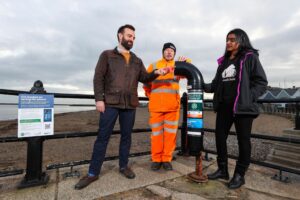 Sunderland Marine is working with Anglers National Line Recycling Scheme (ANLRS) to position 12 recycling bins at locations along the coast. The facilities allow anglers and the general public to deposit discarded fishing line or fishing debris found on local beaches which could otherwise pose a threat to wildlife.
In 2021, the ANLRS started a similar project along the Sussex coast. In 12 months, over 1,000kg of fishing debris and 200,000 metres of fishing line were recovered and recycled.  Viv Shears, co-founder of the ANLRS, said: "Sunderland Marine has supported the ANLRS since its inception in 2018 and we were delighted when it approached us about a project in an area close to its heart. It will be great to see how the project works in the Sunderland area and increase interest in recycling materials that often get sent to landfill or incineration." All the materials collected during the project will be recycled via plastics recycling company ReFactory. Waste collected can be returned to the community in useful forms – such as benches or even recycling stations to protect the environment from which it originated.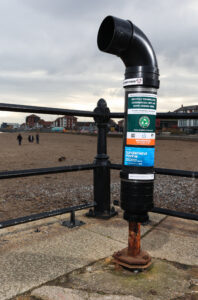 James Simison, Underwriter at Sunderland Marine, said: "Sunderland Marine is proud to have worked with Viv and the ANLRS for many years now, supporting their efforts across the UK. It's fantastic to get the opportunity to bring the recycling bins to Sunderland and hopefully other locations in the North East as the project develops."https://www.anglers-nlrs.co.uk/get-involved
The inaugural recycling bins have been adopted by Sunderland City Council and will be maintained and emptied by the City Council Environmental Services North team. Councillor Claire Rowntree, Deputy Leader of Sunderland City Council and Cabinet Member for Clean Green City, said: "Angling and sea fishing are popular activities across the city's coast and waterways, and whilst the majority of Sunderland's fishing community disposes of fishing related waste responsibility, considerable fishing line does still find its way into open water or is washed up on our beaches, where it presents a real hazard to not just marine life, birds and other animals including pets, but even people as well." The initiative has also been welcomed by global animal welfare charity Animals Asia. Vijay Kritzinger, North East Animals Asia support group leader, said: "We conduct regular community beach cleans in Sunderland and South Tyneside and we are pleased that fishing lines and commercial nets will be deposited into recycle bins instead of ending up in landfill." For further information, please see here:  
About North P&I Club:
About The Anglers National Line Recycling Scheme
https://www.anglers-nlrs.co.uk 
A volunteer lead, donation funded scheme that promotes and facilitates the UK recycling  of angling related plastic waste such as fishing line and discarded tackle. The scheme has over 650 bins in tackle shops, fisheries and coastal locations across the UK and Europe. 
About North East Animals Asia