KOTUG, in collaboration with its Integration Partner Helm Operations, is actively and autonomously scheduling all tug movements for some of America's leading maritime operations.
22 May 2023 – Since early 2022, the advanced scheduling tool of KOTUG OptiPort has been active in some of the busiest ports of the USA – Los Angeles (LA) and Long Beach (LB) in California, Port Arthur in Texas and the Port of Tampa in Florida.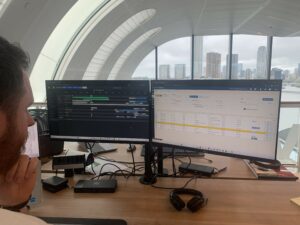 Towage in congested Ports in the USA
The process of scheduling the right tugs to match the right vessel is a complex task that requires advanced insights. To deal efficiently with the resulting complexities, some of the key operators in the USA have partnered with KOTUG OptiPort, the leading provider of intelligent tug scheduling software worldwide.
Unique scheduling software for real-time fact-based planning
"OptiPort utilizes the latest developments in machine learning, data science, mathematical programming and data analytics. It is the world's first cloud-based tug scheduling software to use AI to optimize decision-making continuously and has been designed exclusively for maritime service providers," explains Patrick Everts, General Manager at KOTUG.
"OptiPort improves dispatch operations to address the current economic and operational challenges facing the maritime industry. It enhances efficiency by combining AIS data from nautical assets, weather and tide data, work and crewing schedules, and port information to produce a tailored cost optimization and minimization model for users."
In addition to the effective use of data and AI to optimize planning, KOTUG OptiPort offers a cloud-based reporting solution for reporting and analytics.
Integration with World's Leading Dispatch/Billing software
Helm CONNECT Jobs is the most widely used dispatch and billing software for the harbor towage sector. It is utilized by customers in 30+ countries to effectively dispatch thousands of assets.
Nolan Barclay, CEO at Helm Operations, said: "The partnership between Helm and KOTUG OptiPort offers harbor towage operators a simplified order-to-invoice workflow and access to significant optimized cost savings. Helm now also offers a new mobile app – Helm Portal – which allows local port agents to submit requests directly to towage operators, make changes to those requests, see live updates, and receive notifications – all via a handheld device. This provides timely and accurate dispatch information and keeps OptiPort up to date with real-time information to secure better operational recommendations."
Excellent towage services at the lowest costs: the right tug at the right time at the right location
Implementing OptiPort and Helm CONNECT's scheduling solution allows towage companies to deliver enhanced towage services in the ports the company operates in at the lowest costs.  The software applies local rules and business/port standards in a consistent and optimized way, ensuring that the right tug is at the right location at the right time while sailing at the optimal speed. As a result, fuel consumption is reduced while tugboat utilization is simultaneously improved for the operator. OptiPort also provides teams with more control over operations, with automatic real-time updates enabling tug hour scheduling to be accomplished in advance instead of at the last moment.
About Helm Operations
Since 1999, Helm Operations has been developing software to help marine companies better manage their vessel maintenance, compliance, personnel and operations. Its flagship product, Helm CONNECT, has emerged as the leading software platform for marine operations and vessel management. Today, more than 320 customers and 5800 vessels around the world use Helm CONNECT.
www.helmoperations.com
About KOTUG OptiPort
KOTUG OptiPort is part of the KOTUG Group of Companies. KOTUG is a leading maritime family-owned company, offering its innovative towage and maritime-related services on a global scale.  KOTUG is firmly committed to the highest industry standards of health, safety, environment, quality and security. Adding value by sustainability-focused innovations, KOTUG provides a complete portfolio of services based on a combination of long-standing knowledge and advanced technologies.  From designing, building, chartering and operating vessels to training people and providing innovative consultancy services. The company's expertise is divided across five pillars: Towage, Training & Consultancy, Intelligence, Subsea and Maritime Excellence.  KOTUG is active in Europe, Asia, Australia, Africa, the Middle East, North and South America and the Caribbean and continues to expand its operations worldwide.
www.kotug.com
KOTUG. AHEAD IN MARITIME EXCELLENCE