11 March, 2016 – Teams from Bolidt Synthetic Products & Systems will be busy throughout 2016 installing decking systems on a number of high profile newbuild cruise ships. Bolideck® products have been specified by TUI Cruises, MSC Cruises, Norwegian Cruise Line (NCL), Holland America Line (HAL), Royal Caribbean Cruise Line (RCL) and Viking Cruises, among others.
Deliveries will cover new generation vessels under construction at shipyards in Finland, France, Germany and Italy.
MSC Cruises has commissioned Bolidt to supply a series of four vessels building at STX France. The first in the so-called Vista series, the 167,600gt, 315m long MSC Meraviglia, is due for delivery in mid-2017, and will be followed by a sister ship in early 2019.
One of the features of Bolidt's contract to supply MSC Meraviglia, now underway, is that the company is installing balcony decks in block stages. As Jacco van Overbeek, director of Bolidt's Maritime Division, observes: "This approach saves a lot of time and money for the yard. If we install in block stages, the blocks are already inside the big tents which are required to protect them. As a result, there is no need to provide any additional weather protection to install the balconies once the blocks have been put together for the complete vessel. What is important, and is appreciated by the yard, is that we are flexible enough to be able to accommodate this way of working."
The biggest vessel in the MSC Cruises fleet, MSC Meraviglia will have space for 4,500 passengers in 2,250 cabins and will feature two covered promenades, expanded outside areas and water parks. The whole ceiling of one of the inside promenades will be covered with a giant 480m2 LED screen.
Earlier this year MSC agreed contracts with STX France for two further vessels for delivery in late 2019 and mid-2020. These will be even larger, at 331m in length, and will have around 200 additional cabins.
It has been confirmed that Bolidt will be supplying a comprehensive range of decking and flooring materials to all four vessels. This will include its Bolideck® Future Teak system, as well as Bolideck® Select Soft Teak Effect, Bolideck® Select Soft and Bolideck® Select Hard.
Bolidt is also working with STX France on RCL's Harmony of the Seas, an Oasis-class cruise ship due for delivery in April 2016. The 227,000gt, 364m long vessel will feature a number of different Bolidt decking materials, including Bolideck® Future Teak, Bolideck® Select Soft Teak Effect, Bolideck® Select Soft and Bolideck® Select Hard.
Bolidt has a long-standing relationship with the Meyer Werft group, and is working on a number of projects at its shipyards in Germany and Finland. Bolidt is fitting out NCL's Norwegian Joy at Meyer Werft in Papenburg, Germany, with a range of decking products, including Bolideck® Future Teak, Bolideck® Select Soft, Bolideck® Select Hard and Bolidt Smart Balcony®. The 163,000gt, 326m long vessel is scheduled for delivery in March 2017, and is due for deployment in China. With space onboard for 3900 guests, Norwegian Joy is configured to provide the same sense of freedom and flexibility found on all NCL ships, but will be the first with an interior design developed specifically with the Chinese guest in mind.
Nearing completion at the Papenburg yard is RCL's 348m long, 167,000gt Ovation of the Seas. This vessel, the third in the Quantum class, and due to enter service this Spring, will benefit from an extensive range of Bolidt products, including Bolideck® Future Teak, Bolideck® Select Soft, Bolideck® Select Hard and Bolidt Helideck.
At Meyer Werft's Turku yard in Finland, TUI Cruises' 295m long, 99,800gt Mein Schiff 6 is now under construction for delivery in July 2017. Bolidt is supplying Bolideck® Future Teak and Bolideck® Select Soft to Mein Schiff 6, as well as to its sisters Mein Schiff 7 and 8, which are to follow from the Finnish yard in 2018 and 2019 respectively. Mein Schiff 6 is around 294m long, with 1,253 staterooms and the capacity to carry approximately 2,506 passengers. Around 90 % of the cabins are outside and 82 % have balconies.
A notable first in class that Bolidt is collaborating on is HAL's 99,500gt Koningsdam. The 2,650 passenger capacity cruise liner, due to set sail in April 2016, is the first so-called Pinnacle-class vessel, and has a striking music-themed design developed by Adam D. Tihany, and Bjørn Storbraaten. Bolidt engineers have been working in close cooperation with the designers at Fincantieri's Marghera shipyard, finishing the installation of deck areas which will include 4,700m2 of Bolideck® Future Teak. Also nearing completion at the Marghera yard is Viking Cruises' 47,800gt Viking Sea, which will feature Bolideck® Future Teak and Bolideck® Select Hard onboard. This vessel is also due for delivery this spring.
Jacco van Overbeek says: "We are delighted that we have the support of so many leading cruise ship operators and shipbuilding yards, for this number of vessels. To have so many newbuilding projects underway at once, and to still have an excellent on-time delivery record, is a reflection of the hard work and flexibility of Bolidt's installation teams. We pride ourselves on our excellent cooperation with the yards and our ability to adapt to accommodate their wishes during the installation phase."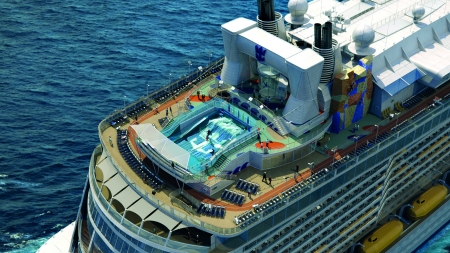 Note to
editors:
Bolidt Synthetic Products & Systems
For further information contact the Marketing & Communications department
T +3178 684 54 44
E marcom@bolidt.com
www.bolidt.com