10 October 2023 – Post combustion CCS system absorbs CO2 from a vessel's exhaust gas that is heated to capture CO2 and then liquefied and stored cryogenically onboard.
Lloyd's Register (LR) has awarded Approval in Principle (AiP) to ERMA FIRST for its amine absorption-based Carbon Capture & Storage (CCS) system.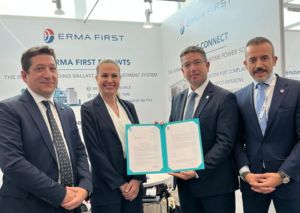 ERMA FIRST's CCS system uses absorption technology to mix CO2 (carbon dioxide) flue gases with a proprietary amine solvent, which is then heated to produce a chemical reaction which reverses the absorption and separates the CO2 from the solvent. The CO2 from this process is then liquified and stored under cryogenic conditions onboard with the solvent ready to use in the same process again, creating a regenerative loop for CCS.
With the ability to capture a significant amount of CO2 from exhaust emissions, ship owners and operators will be able to meet and exceed the IMO's strengthened emission reduction targets, whilst increasing their vessels' lifecycle.
LR's AiP, as part of the Risk-Based Certification process, has enabled the technology to achieve this important milestone and allows ERMA FIRST to proceed with onboard pilot testing of the application, whilst LR continues to support its industry partners in de-risking their maritime assets.
The AiP builds upon the commercial success of ERMA FIRST's ballast water treatment system, the ERMA FIRST FIT BWTS, which received type approval from LR back in November 2018.
Nick Brown, CEO, Lloyd's Register, said:
"LR is pleased to have awarded ERMA FIRST with Approval in Principle for its post combustion Carbon Capture & Storage system. CCS technology presents a real and credible route for the maritime industry to reduce its greenhouse gas emissions in the short to medium term and this AiP is evidence of LR's tangible actions to support the global energy transition.
"Acting as trusted advisers and using our technical expertise throughout the certification process, LR continues to proactively identify a broad range of technologies that can de-risk operations for maritime stakeholders."
Konstantinos Stampedakis, Co-Founder & Managing Director, ERMA FIRST, said:
"We are delighted to have received Approval in Principle from Lloyd's Register for the ERMA FIRST CCS system. ERMA FIRST is committed to developing solutions that support the maritime industry's green transition and achievement of the IMO's decarbonisation ambitions. This AiP represents a significant milestone for our CCS project, and we look forward to continuing to work with Lloyd's Register as we move into the next phase of this important project."
ABOUT LLOYD'S REGISTER:
Trusted maritime advisers, partnering with clients to drive performance across the ocean economy.
Lloyd's Register (LR) is a global professional services group specialising in marine engineering and technology. Created more than 260 years ago as the world's first marine classification society, to improve and set standards for the safety of ships.
Today we are a leading provider of classification and compliance services to the marine and offshore industries, helping our clients design, construct and operate their assets to accepted levels of safety and environmental compliance.
We also provide advice, support and solutions on fleet performance and optimisation, voyage optimisation, enhancing our clients' digital capability. Our digital solutions are relied upon by more than 20,000 vessels.
In the race to zero emissions, our research, technical expertise and industry-firsts are supporting a safe, sustainable maritime energy transition.
Lloyd's Register Group is wholly owned by the Lloyd's Register Foundation, a politically and financially independent global charity that promotes safety and education.
ABOUT ERMA FIRST:
ERMA FIRST – Preserving and Protecting the Marine Ecosystem
Founded in 2009 and headquartered in Greece, ERMA FIRST is a leading manufacturer of ballast water treatment systems (BWΤS) and sustainable marine equipment solutions. Our robust systems and solutions ensure worldwide compliance, provide operational simplicity and reduce operational expenditure.
ERMA FIRST's customer-centric approach offers flexible and convenient servicing through a trusted network of certified engineers worldwide. ERMA FIRST provides sales, maintenance and training to clients via a network of offices in 46 countries.
ERMA FIRST offers a complete range of ballast water treatment solutions (BWTS), holding USCG & IMO Type Approvals. In addition, ERMA FIRST is an experienced manufacturer of pioneering sustainable marine equipment solutions.
ERMA FIRST won the Lloyd's List Technical Achievement Award (2013), the GREEN4SEA Technology Award (2016) and GREEN4SEA Sustainability Award (2023).