9 February, 2017 – MacGregor, part of Cargotec, has won its third Offshore Support Journal (OSJ) Innovation of the Year Award, announced at OSJ's annual conference and awards event in London, UK, on 8 February 2017.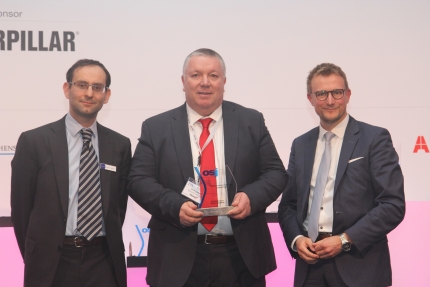 MacGregor won the Innovation of the Year Award for its 3D Motion Compensator, receiving the award is John Carnall, MacGregor
(in the middle) together with Edwin Lampert from Riviera (left),
and Gijsbert de Jong from Bureau Veritas (right)
This year's entry was won by the MacGregor 3D Motion Compensator (3DMC); a retrofit device designed to enhance the load-handling precision of offshore cranes.
MacGregor won the same award in 2014 for its three-axis motion-compensated crane and in 2012 for its Chain Wheel Manipulator.
The award is given to an innovative product, system or service that is considered to have made a significant impact on the design, build and/or operational aspects of offshore support vessels. It was presented to the MacGregor team in front of an audience of about 500 people at the conference's gala dinner.
"We are obviously delighted to have won this peer-reviewed, industry recognition from one of the most reputable forums in the international offshore sector," says John Carnall, Executive Vice President, Global Lifecycle Support at MacGregor. "Winning the award for a third time really demonstrates our ability to develop and introduce new concepts to the market that have the capability of genuinely transforming offshore operations.
"We know how tough market conditions are. We have focused a great deal of effort in developing systems that can cost-effectively improve the equipment that operators already own, so that they can become more competitive," continues Mr Carnall. "Any investment must deliver demonstrable operational advantages and the 3DMC retrofit option does exactly that, allowing a shipowner to expand the load-handling capabilities of a crane far beyond its original limitations. This means that the crane and therefore the vessel can be used for more assignments and owners will be able to bid on a wider range of contracts."
The benefits
explained
MacGregor's standard active heave-compensation (AHC), supplied through a crane's winch, compensates for a vessel's vertical movements. However, when very accurate load positioning is required, such as landing loads on small, fixed platforms, the 3DMC can be used. It compensates for the roll, pitch and heave motions of the vessel to minimise any movement of the load in relation to a fixed point in space.
The 3DMC can be fitted to the knuckle jib of a broad spectrum of new or existing MacGregor subsea/offshore cranes. It has been designed for easy installation and makes use of the crane's existing hydraulic power unit and control system. The 3DMC/crane interface is designed so that the unit can be swiftly mobilised to a crane with the relevant fittings. This allows for flexibility within a fleet of vessels, so that one or several 3DMCs can be shared between them.
When not required, the 3DMC simply remains fixed to the side of the crane's main knuckle jib without interfering with the normal lifting capabilities of the main and whip winches.
For more information
please contact:
John Carnall, Senior Vice President, Global Lifecycle Support, MacGregor,
Tel. +44 7793 243 332, Email: john.carnall@macgregor.com
or
Heli Malkavaara, Senior Communications Manager, MacGregor, tel. +358 20 777 4500
Email: heli.malkavaara@macgregor.com
MacGregor shapes the offshore and marine industries by offering world-leading engineering solutions and services with a strong portfolio of MacGregor, Hatlapa, Porsgrunn, Pusnes and Triplex brands. Shipbuilders, owners and operators are able to optimise the lifetime profitability, safety, reliability and environmental sustainability of their operations by working in close cooperation with MacGregor.
MacGregor solutions and services for handling marine cargoes, vessel operations, offshore loads, crude/LNG transfer and offshore mooring are all designed to perform with the sea. www.macgregor.com
MacGregor is part of Cargotec. Cargotec's (Nasdaq Helsinki: CGCBV) sales in 2016 totalled approximately EUR 3.5 billion and it employs over 11,000 people. www.cargotec.com