13 November, 2017 (Singapore)– MacGregor celebrates opening of its Head office in Singapore.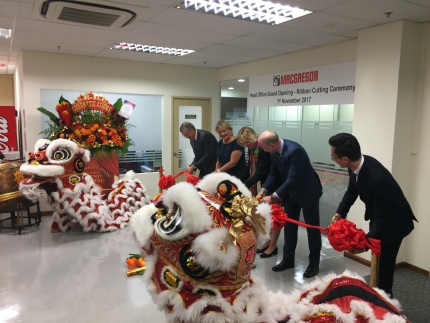 Grand opening ribbon cutting from (left to right)
Michel van Roozendaal, Finnish Ambassador
Paula Parviainen, Dutch Ambassador, Margriet Vonno,
Mika Vehviläinen, Tan Kong Hwee EDB
MacGregor, part of Cargotec, announced plans in September to establish its Head office in Singapore and ending a period of more than three years of having operated with a virtual head office.
To celebrate the opening of the Singapore head office, MacGregor held a ribbon cutting ceremony on 1 November 2017 with invited guests including Paula Parviainen, Finnish Ambassador in Singapore, Margriet Vonno, Dutch Ambassador in Singapore, Tan Kong Hwee, member of the Economic Development Board of Singapore (EDB) and customers.
"Cargotec aims to be a leader in intelligent cargo handling, serving logistics industries with its three business areas. The maritime industry landscape has changed and we have seen consolidations, increasing benefits of digitalisation and strong changes in the market environment," says Mika Vehviläinen, CEO, Cargotec. "For MacGregor this is an exciting and important opportunity. The future growth of the shipping and consumer logistics is happening more and more in Asia. Therefore, it is very important to be close to the leading market and we are proud to have the home for MacGregor head office in Singapore. There are many good reasons for the decision, but the main driver is innovation and being close to the source and capabilities Singapore can offer in that respect."
"Although MacGregor roots go back to 1751 in Norway with the Pusnes brand, this year marks the 80th anniversary for the MacGregor brand. This serves to remind us how far we have come as a company. We have moved forward from our Nordic roots to Asia, close to our many Asian customers and new innovation opportunities," says Michel van Roozendaal, President, MacGregor. "We continue to serve our customers globally with our extensive presence in more than 30 countries. Singapore is a good location being in the crossroads of Europe and Asia and offers us a stable home in our journey forward".
MacGregor shapes the offshore and marine industries by offering world-leading engineering solutions and services with a strong portfolio of MacGregor, Hatlapa, Porsgrunn, Pusnes and Triplex brands. Shipbuilders, owners and operators are able to optimise the lifetime profitability, safety, reliability and environmental sustainability of their operations by working in close cooperation with MacGregor.
MacGregor solutions and services for handling marine cargoes, vessel operations, offshore loads, crude/LNG transfer and offshore mooring are all designed to perform with the sea. www.macgregor.com
MacGregor is part of Cargotec. Cargotec's (Nasdaq Helsinki: CGCBV) sales in 2016 totalled approximately EUR 3.5 billion and it employs over 11,000 people. www.cargotec.com