30 March 2023 – MacGregor, part of Cargotec, has received a large order for comprehensive packages of RoRo equipment for a total of two dual-fuel LNG Pure Car and Truck Carrier (PCTC) vessels. These PCTC vessels will be built at Fujian Mawei Shipbuilding Ltd. for Sallaum Lines. Sallaum Lines specializes in global RoRo cargo shipping, and these two newly ordered vessels will be the company's very first newbuildings.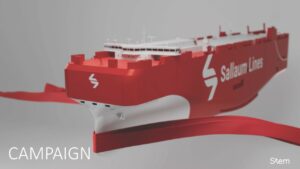 The order was booked into Cargotec's 2023 first quarter orders received. The vessels are scheduled to be delivered to the shipowner between the fourth quarter of 2024 and the second quarter of 2026.
MacGregor's scope of supply encompasses design, supply and installation support of RoRo  and car deck equipment to the ordered vessels. This includes electrically operated external and internal ramps, liftable car decks, covers and doors for the two new PCTC vessels.
"I'm happy that the long cooperation with Fujian Mawei Shipbuilding Ltd and new collaboration with Sallaum Lines have led us to become the supplier for the RoRo equipment for Sallaum Lines' first ever newbuildings. We are delighted to be part of this milestone. Our proven and reliable RoRo solutions as well as our global service network have been proven to be important for our globally operating customers," says Magnus Sjöberg, Senior Vice President, Merchant Solutions, MacGregor.
"We are excited to partner with MacGregor for the development of our first new buildings. Their extensive experience and expertise in providing state-of-the-art RoRo equipment are crucial for Sallaum Lines as we continue to expand our fleet and maintain our commitment to efficient and environmentally-friendly transportation solutions. This collaboration further strengthens our position in the global RoRo cargo shipping market," says Puneet Arora, Technical Manager of Sallaum Lines.
About
MacGregor
MacGregor is a leader in sustainable maritime cargo and load handling with a strong portfolio of products, services and solutions, all designed to perform with the sea.
Shipbuilders, shipowners and operators are able to optimise the lifetime profitability, safety, reliability and environmental sustainability of their operations by working in close cooperation with MacGregor. www.macgregor.com
MacGregor is part of Cargotec. Cargotec's (Nasdaq Helsinki: CGCBV) sales in 2022 totalled approximately EUR 4 billion and it employs around 11,500 people. www.cargotec.com