28 November 2019 – The latest issue of MacGregor News is now available to read online here.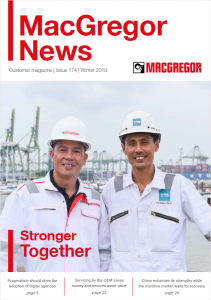 Articles include:
Pragmatism should drive the adoption of digital agendas
Interconnected intelligent systems enable an autonomous future
Game-changing advances turn the tide on convention
What price to put on value?
Servicing by the OEM saves money and secures asset value
Bringing the value of expert knowledge closer to customers
China enhances its strengths while the maritime market waits for recovery
Any articles that are of interest may be reproduced in full or in part. We kindly ask that publishers please ensure that reproduced material is accredited to MacGregor – MacGregor News, Winter 2019.
For further information please visit our website at www.macgregor.com or contact:
Robin Thuillier
Communications Director, MacGregor
Tel: +65 9730 4301
Email: robin.thuillier@macgregor.com
MacGregor is a leader in intelligent maritime cargo and load handling with a strong portfolio of MacGregor, Hatlapa, NMF, Porsgrunn, Pusnes, Rapp, Triplex and TTS products, services and solutions, all designed to perform with the sea.
Shipbuilders, shipowners and operators are able to optimise the lifetime profitability, safety, reliability and environmental sustainability of their operations by working in close cooperation with MacGregor. www.macgregor.com
MacGregor is part of Cargotec. Cargotec's (Nasdaq Helsinki: CGCBV) sales in 2018 totalled approximately EUR 3.3 billion and it employs around 13,000 people worldwide. www.cargotec.com