01 December 2022 – The latest issue of MacGregor News is now available to read online here.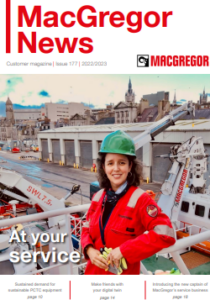 Articles include: 
Sustained demand for sustainable PCTC equipment
MacGregor's electric solutions improve sustainability and profitability
Make friends with your digital twin
Introducing the new captain of MacGregor's service business
Service exceeds expectations for China's new generation drilling rig
Support for safe, efficient and sustainable research
Any articles that are of interest may be reproduced in full or in part. We kindly ask that publishers please ensure that reproduced material is accredited to MacGregor News 2022.
For further information please visit our website at www.macgregor.com or contact:
MacGregor is a leader in sustainable maritime cargo and load handling with a strong portfolio of products, services and solutions, all designed to perform with the sea.www.macgregor.com  MacGregor is part of Cargotec. Cargotec's (Nasdaq Helsinki: CGCBV) sales in 2021 totalled approximately EUR 3.3 billion and it employs around 11,500 people worldwide. www.cargotec.com
Shipbuilders, shipowners and operators are able to optimise the lifetime profitability, safety, reliability and environmental sustainability of their operations by working in close cooperation with MacGregor.