5 July, 2017 – MacGregor, part of Cargotec, has signed a contract to supply oceanographic winches and Triplex deck handling systems to a ground-breaking new research vessel being built by the Fassmer shipyard in Berne, Germany. The order was booked into Cargotec's second quarter 2017 order intake. MacGregor equipment deliveries are planned for completion by the end of the first quarter of 2019.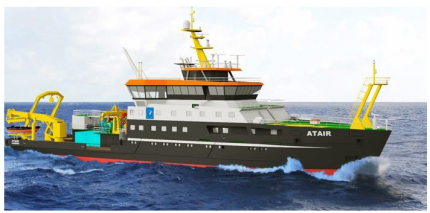 Atair II
The new dual-fuel (LNG) 74m vessel, Atair II, is under construction for the German Federal Maritime and Hydrographic Agency (BSH). It will operate in the North Sea and the Baltic Sea, conducting hydrographic surveys and wreck search operations in addition to marine environmental monitoring. The vessel will have a 200m2 working deck that features laboratories and an air pollution measurement station.
"To develop the most value-adding solution for this state-of-the-art research vessel, MacGregor has worked closely with the shipyard," says Esko Karvonen, Vice President, Smart Ocean Technology, MacGregor. "This cooperation not only means that our systems meet the needs of the operator, but ensures its safe and reliable operation.
"Our systems are based on proven technology and are customised to carefully handle a full range of sophisticated hydrographic survey equipment," he adds.
For further information
please contact:
Esko Karvonen, Vice President, Smart Ocean Technology, MacGregor,
Tel: +65 9839 2425, Email: esko.karvonen@macgregor.com
or
Heli Malkavaara, Senior Communications Manager, MacGregor,
Tel. +358 20 777 4500, Email: heli.malkavaara@macgregor.com

MacGregor shapes the offshore and marine industries by offering world-leading engineering solutions and services with a strong portfolio of MacGregor, Hatlapa, Porsgrunn, Pusnes and Triplex brands. Shipbuilders, owners and operators are able to optimise the lifetime profitability, safety, reliability and environmental sustainability of their operations by working in close cooperation with MacGregor.
MacGregor solutions and services for handling marine cargoes, vessel operations, offshore loads, crude/LNG transfer and offshore mooring are all designed to perform with the sea. www.macgregor.com
MacGregor is part of Cargotec. Cargotec's (Nasdaq Helsinki: CGCBV) sales in 2016 totalled approximately EUR 3.5 billion and it employs over 11,000 people. www.cargotec.com