30 November 2020 – METIS Cyberspace Technology S.A. has secured a fleet-wide contract from Neptune Lines to implement its data acquisition and advanced analytics platform in a first commitment to deploy the power of AI in vessel management by a Pure Car & Truck Carrier operator.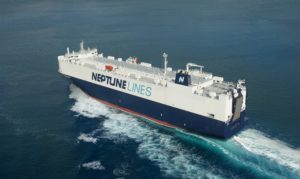 Neptune Lines PCTCs feature METIS Ship Connect – the automated data acquisition solution whose accuracy is approved by Lloyds Register.
The METIS platform uses a network of Wireless Intelligent Collectors to harvest machinery, navigation and operational data regardless of equipment supplier. Its ship performance analysis also integrates AIS data, data fetched from vessels' daily / arrival / departure regular reporting and weather forecasts to provide services such as automated noon reporting, analysis of technical and operational domains and weather-related reporting.
Outputs include live dashboards showing the condition of main engines, diesel generators, ballast water treatment systems and other machinery as well as power and fuel consumption. However, the METIS platform also allows Neptune Lines management to visualize KPIs such as power vs speed under the full ship speed range and in all weathers using machine learning models and run 'what if' routing scenarios to weigh up consequences for fuel and arrival times. Managers can even measure performance against Charter Party Agreements.
"As a leading finished vehicle logistics provider active across more than 40 ports, Neptune Lines forms an integral part of the automotive industry's downstream supply chain", says Nikos Paterakis, Neptune's Chief Operating Officer. "Over the past few years, IoT devices and NLP technology through the data they collect became key drivers of higher operational efficiency which at the end leads to better performance for the customers for the logistics industry. It is time for shipping to quickly adapt to the changes, enwrap the new technologies and get to the next performance level with the sophistication and service quality demanded in our times."
Neptune Lines will benefit from additional customized functionality from METIS including continuous speed profile optimization across its Mediterranean, North Europe and Black Sea routes, emissions indicator monitoring and antifouling coatings performance assessment. Generator operations in port will also be scrutinized to minimize power consumption and emissions.
"Neptune Lines is a new customer and the PCTC sector is a new vessel type for METIS, but the ability of AI to empower shipping companies in their journey towards digital transformation is fully applicable to all kinds of vessel," says Mike Konstantinidis, CEO, METIS. "Round the clock data acquisition from all available sources provides a rich, high-resolution picture of ship performance rather than a patchwork of inconsistent datasets. As the industry's only end-to-end platform powered by AI, the true value of the METIS solution is cumulative; applied fleet-wide its benefits add up to more than the sum of its individual technical, operational and cost gains."
Three years after launch, METIS data acquisition and analytics has been implemented on nearly 250 ships and is measuring 2.5 billion performance data points monthly.
About METIS Cyberspace Technology S.A.
METIS Cyberspace Technology specializes in Data Acquisition, Real-time Performance Monitoring and Intelligent Analytics for the Maritime Industry, based on advanced Machine Learning and Artificial Intelligence techniques. Based in Athens, the core of METIS is its team of skilled engineers and researchers whose innovative thinking, maritime business know-how and expertise in high-end technologies are empowering shipping's digital transformation. Established in 2016, METIS is majority-owned by maritime-focused environmental engineering group ERMA FIRST. www.metis.tech
For further information:
Mr Andreas Symeonidis
Marketing Manager, METIS Cyberspace Technology
+30 213 0075005
andreas.symeonidis@metis.tech
Ms Debbi Bonner
Managing Director, JLA Media
+31 652 630122
debbi.bonner@j-l-a.com