07 December 2020 – Maritime data analytics specialist METIS Cyberspace Technology has emerged as a Lloyd's List Greek Shipping Awards winner, after securing the Lloyd's List Intelligence 2020 Big Data Award in recognition of its contribution to digitalisation in the maritime industry.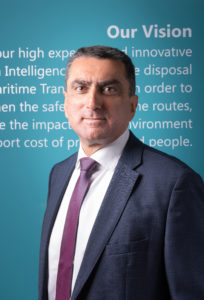 Sponsored by ABS and judged by a panel of Lloyd's List Intelligence experts, the prestigious Big Data Award recognises "Greek companies that have exemplified the benefits of digitalisation for innovation or efficiency". METIS received the award on 4 December during a virtual presentation of the Lloyd's List Greek Shipping Awards.
METIS specialises in the development of innovative artificial intelligence-based solutions that empower shipping companies on their journey towards digital transformation.  The company's AI platform combines fully automated data acquisition with high-grade qualitative and quantitative analysis, delivering valuable information that addresses the needs of the various stakeholders within a shipping organisation.
Accepting the honour on behalf of his team, METIS chief executive officer Mike Konstantinidis said: "In less than four years since its establishment, METIS Cyberspace Technology has earned a reputation within the industry as a provider of smart solutions that allow shipowners to extract real value from data. We are truly proud to see our efforts acknowledged by such a renowned source of shipping intelligence as Lloyd's List."
The key to extracting "real value from data", adds Konstantinidis, lies in AI and machine learning. Based on the insights gleaned using these technologies, METIS develops virtual models for the vessels within a fleet, through which it is able to identify trends, correlate seemingly unrelated events, predict future behaviour and present 'what-if' scenarios.
The platform also features a variety of interface options for users to gain access to its specialised analytics on operational and technical matters, and receive alerts in advance of critical events. Options include the maritime industry's first 'chatbot', with which vessel stakeholders can interact in plain English, request information of any kind and receive instant, detailed responses.
From its Athens headquarters, METIS has expanded its operations globally, opening offices Vancouver and establishing partnership agreements in Singapore, London, Hamburg and Limassol. More than 250 ships are now registered to the METIS cloud platform.
"METIS brings together shipping experience, mechanical and naval engineering expertise and unrivalled competence in modern digital technologies to provide a genuinely unique service," says Konstantinidis. "By helping shipowners to reduce costs, enhance operational efficiency and minimise their carbon footprint, we are positioning ourselves as an invaluable partner in maritime digitalisation."
About METIS Cyberspace Technology S.A.
METIS Cyberspace Technology specializes in Data Acquisition, Real-time Performance Monitoring and Intelligent Analytics for the Maritime Industry, based on advanced Machine Learning and Artificial Intelligence techniques. Based in Athens, the core of METIS is its team of skilled engineers and researchers whose innovative thinking, maritime business know-how and expertise in high-end technologies are empowering shipping's digital transformation. Established in 2016, METIS is majority-owned by maritime-focused environmental engineering group ERMA FIRST. www.metis.tech
For further information:
Mr. Andreas Symeonidis
Marketing Manager, METIS Cyberspace Technology
+30 213 0075005
andreas.symeonidis@metis.tech
Ms Debbi Bonner
Managing Director, JLA Media
+31 652 630122
debbi.bonner@j-l-a.com