26 July, 2016 – Fleet Xpress will deliver data intelligence to drive smarter and greener shipping operations
Inmarsat (LSE:ISAT.L), the leading provider of global mobile satellite communications services, has announced that its partner JSAT MOBILE Communications has signed an agreement with Mitsui O.S.K. Lines (MOL), one of the world's largest shipping companies, to introduce the newly-launched Fleet Xpress service across the majority of its car carrier fleet.
Existing Inmarsat customer MOL says migrating its car carriers to always-on, high-speed broadband connectivity will be pivotal in its continuing drive towards 'smarter and greener shipping' operations.
MOL has long been convinced that the environmental performance of its ships offers a competitive advantage. It was the first owner in the world certified under the Ship Energy Efficiency Management Plan (SEEMP) – the International Maritime Organization's emissions scheme to benchmark the impact of technical innovations on ship efficiency.
The roll-out of Fleet Xpress on board the MOL fleet will coincide with planned vessel drydockings, with the owner's car carriers selected for the first installations. Fleet Xpress will effectively and efficiently connect MOL ships to landside offices via VPN.
"Owners have been eagerly awaiting fully integrated connectivity between ship and shore that delivers an unprecedented scale of redundancy and seamless service virtually everywhere on the planet," says Gerbrand Schalkwijk, Chief Sales Officer, Inmarsat Maritime.
"Fleet Xpress is the first global maritime high-speed broadband service from a single network operator. High-speed, ultra-reliable connectivity will transform the maritime industry by putting big data at the heart of operating decisions and cost-controlled connectivity in the hands of seafarers."
About
Fleet Xpress
Fleet Xpress is the maritime service powered by the Global Xpress network – based on Inmarsat's I-5 generation satellites and the FleetBroadband I-4 satellites. Inmarsat has already announced plans for further Ka-band and L-band service enhancements, after contracting with Airbus at the end of 2015 to build the first two satellites in its sixth-generation I-6 fleet.
Fleet Xpress delivers a unique, fully integrated dual capability of high speed, high capacity services (Global Xpress) together with high reliability safety-level services (FleetBroadband) in a single commercial package which is available across the globe. Fleet Xpress is further enriched by Inmarsat Gateway, a unique service enablement platform designed to provide ship owners, managers and operators with access to a new generation of value-added maritime applications, services and solutions.
Fleet Xpress will be taken to market through Inmarsat's powerful and committed direct and indirect sales channels. Over 5,000 vessels have already committed to the Fleet Xpress service to date.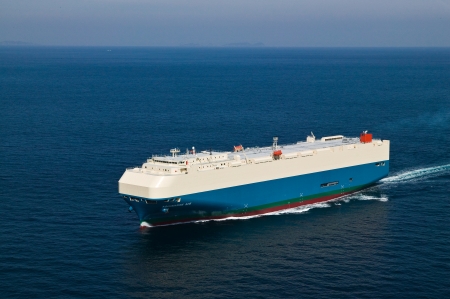 MOL Aquamarine Ace
About
Inmarsat
Inmarsat plc is the leading provider of global mobile satellite communications services. Since 1979, Inmarsat has been providing reliable voice and high-speed data communications to governments, enterprises and other organizations, with a range of services that can be used on land, at sea or in the air. Inmarsat employs around 1,600 staff in more than 60 locations around the world, with a presence in the major ports and centres of commerce on every continent. Inmarsat is listed on the London Stock Exchange (ISAT.L). For more information, please visit www.inmarsat.com.
The Inmarsat press release newsfeed and corporate updates are on @InmarsatGlobal
About
JSAT MOBILE Communications
JSAT MOBILE Communications (JSAT MOBILE) is a joint venture company formed by Inmarsat (Inmarsat) and SKY Perfect JSAT Corporation (SKY Perfect JSAT) in 2008 to serve the mobile satellite communications needs of Japanese businesses and government agencies.
JSAT MOBILE offers the Japanese market the latest Inmarsat broadband mobile satellite services, including BGAN, FleetBroadband, GSPS, SwiftBroadband and IsatData Pro together with a wide range of value-added services to help customers achieve optimal communications performance and cost efficiency.