20 September, 2017 – A ship's horn signalled the opening of the NEVA 2017 exhibition in St Petersburg today, but not before government and commercial dignitaries from home and abroad gathered on the red carpet to mark the start of Russia's leading maritime event.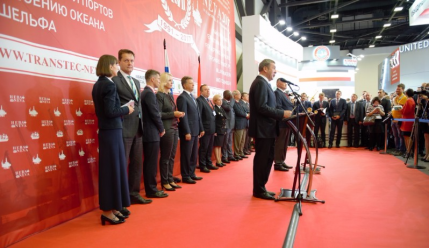 Click here to download the full NEVA 2017 newsletter.
Press Office
& Services
The NEVA 2017 Press Office will be managed by JLA. Exhibitors are welcomed to visit and share news as it happens during the show. The Press Office will be located in Hall G, Stand G1009 and will have facilities to display and distribute press releases. Please make arrangements to bring printed copies if you wish these to be circulated on-site.
NEVA's social media programmes will also be in full swing throughout the Event – please be sure to contribute to our LinkedIn and Twitter feeds.
Follow NEVA 2017 @NEVAevents and share your news using #NEVA2017, join our LinkedIn group NEVA International Maritime Exhibition or catch up on NEVA News here.