31 May, 2017 (Lillestrøm, Norway) – Ship owners and operators can now contact ABB's experts during daytime working hours, no matter when assistance is sought, after the opening of a new ABB Ability Collaborative Operations Center in Florida.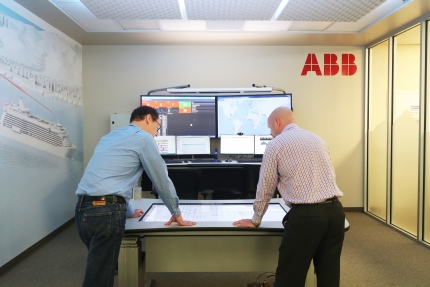 The Center will remotely monitor hundreds of ships around globe and will work in conjunction with similar facilities in Asia and Europe. The Centers (formerly known as Integrated Operations Centers) monitor data sent by vessels, allowing ABB to work with customers in the event of equipment failure or routine maintenance.
ABB is also opening an additional Collaborative Operations Center in Genoa, Italy, which will have an emphasis on automation systems as well as its regular duties to customers. The expansion of the Collaborative Operations Centers consolidates ABB's position as one of the leading proponents of digital solutions in the maritime industry.
The Collaborative Operations Centers collate data that can then be shared on a common platform with customers to troubleshoot problems. When a critical alarm is triggered onboard a vessel, the lights in the Collaborative Operations Center turn red and engineers immediately start to resolve the issue. The opening of the Center in Florida means that no matter when an ABB engineer is dealing with a case they will be working during their daytime.
"Leveraging the data produced by ships is not aspirational for ABB, this is something we are doing already" said Juha Koskela, Managing Director of ABB's marine and ports business. "The opening of these two additional Collaborative Operations Centers is an indication that ABB is leading the digitalization race in shipping and we are bringing the benefits of big data analysis to our customers."
ABB is already remotely monitoring more than 700 ships and aims to raise that number to 3 000 by 2020. The two new centers are now part of a roster of Collaborative Operation Centers that includes Singapore, Billingstad (Norway), Helsinki (Finland) and Dalfsen (Netherlands) – all of which are dedicated to shipping.
In addition to serving the maintenance needs of ships, ABB's marine software also provides real time support for ship masters operating their vessels. For example, ABB's marine software can combine weather forecasts with vessel and load data to create a polar chart to assist the captain when plotting a course.
"Our digital drive is powering forward and we currently offer the most comprehensive marine software available," said Mikko Lepisto, Head of Digital Solutions at ABB's marine and ports business. "We are collaborating both internally and with our customers to turn the huge swathes of data collected into smart data which can increase efficiency and safety onboard."
ABB will have a functioning Collaborative Operations Center at Nor-Shipping http://bit.ly/Nor-shipping
Video:
ABB Collaborative Operations Centers around the globe
ABB (ABBN: SIX Swiss Ex) is a pioneering technology leader in electrification products, robotics and motion, industrial automation and power grids, serving customers in utilities, industry and transport & infrastructure globally. Continuing more than a 125-year history of innovation, ABB today is writing the future of industrial digitalization and driving the Energy and Fourth Industrial Revolutions. ABB operates in more than 100 countries with about 135,000 employees.www.abb.com