26 April, 2017 (Singapore) – Cobham is introducing a super-light Ku-band antenna system that brings the advantages of unlimited high-throughput broadband to all vessel types regardless of operating budget.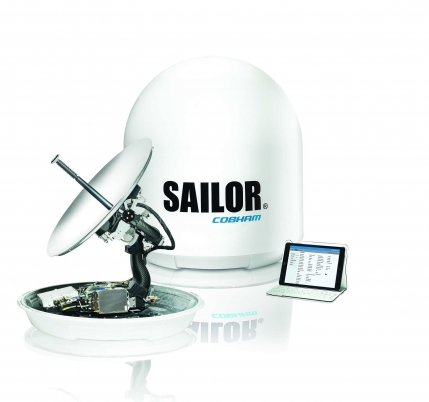 SAILOR 600 VSAT Ku
The SAILOR 600 VSAT Ku-band system comes with a super-light 60cm antenna that delivers a level of radio performance better than any antenna of similar size on the market today. In combination with regional satellites or global HTS services it is opening the way for intra-regional carriers in Asia and operators of smaller vessels as well as globally trading vessels of any size to capitalise on the benefits of unlimited throughput that VSAT enables.
Constructed from lightweight materials, the new antenna is compatible with all Ku-band satellites. It also features advanced diagnostics and configuration options for close integration into network operation centres.
"From the outset, the SAILOR 600 VSAT Ku was engineered to maximize performance on the smallest form factor. All vessels, including smaller tonnage, such as short sea shipping and fishing vessels, can now exploit the benefits of a new breed of high-throughput satellites," said Christian Kock, Senior Sales Director, Global Maritime at Cobham SATCOM.
Taking advantage of lightweight materials such as carbon fibre composites and aluminium, Cobham's engineers have shaved the weight off the antenna so that it can be hand-carried and fitted on the compass deck without the use of a crane or forklift. This results in swifter and more cost-effective installation.
The SAILOR 600 VSAT Ku comes with an array of technical features designed to sustain the market leading performance of SAILOR antennas, including the automatic roaming capability that allows vessels to stay online even when sailing between different coverage areas. The feature enables connectivity both under traditional wide-beam satellites or the new smaller spot beams that distinguish a new generation of high throughput satellite constellations, such as Intelsat's EpicNG.
Uniquely, the new antenna can also be natively configured for dual antenna installations, eliminating a requirement for a separate dedicated switchover box and the additional complexity and cost this entails. "This is particularly important for ships which have structures that could block the direct line-of-sight of one antenna to a satellite, which will result in link degradation and intermittent connection," explained Jens Ewerling, Director, Maritime Broadband. The switch-over to the second antenna happens in less than a second without affecting on-board connectivity.
To maximise reliability, the development team also packed the SAILOR 600 VSAT Ku with a host of diagnostic tools. Automatic event reporting provides service providers with details of any unusual operating anomalies. The antenna is also fitted with shock and vibration sensors, whose data can also be retrieved for remote diagnostics and analysis. "Together this information allows service providers to monitor and pro-actively maintain the antenna to ensure uninterrupted connectivity on board as well as ensure that service level agreements (SLAs) are met," added Jens Ewerling.
Cobham SATCOM's decision to design a new 60cm Ku-band antenna was driven by growing demand for high-speed broadband on a wider range of vessel types and size, Christian Kock noted. "For example, in the commercial fishing sector, a small VSAT system can provide both Internet broadband for keeping the crew happy, whilst simultaneously ensuring compliance with regulatory requirements."
SAILOR VSAT antennas are unique software-controlled communication systems. Combined with advanced sensors and a robust construction they deliver the promise of top level performance in any seas, satisfying demand for high throughput data on board today and tomorrow.
About
Cobham SATCOM
Providing dependable communications and internet access anywhere under the most demanding conditions.
Our satellite and radio communication terminals perform in the most challenging and remote environments on land, at sea and in the air.
We design and manufacture these high performance products under the AVIATOR, EXPLORER, SAILOR and Sea Tel brands providing customers with outstanding performance, value and support through our global sales and service network.
About
Cobham
The most important thing we build is trust.
Cobham is a leading global technology and services innovator, respected for providing solutions to the most challenging problems, from deep space to the depths of the ocean.
We employ around 11,000 people on five continents, and have customers and partners in over 100 countries, with market leading positions in: wireless, audio, video and data communications, including satellite communications; defence electronics; air-to-air refuelling; aviation services; life support and mission equipment.