26 September, 2017 – Leading superyacht and cruise ship decking systems supplier Bolidt Group is strengthening the position of both the Bolidt and Esthec brands in the superyacht refurbishment market through a new cooperative agreement with refit specialists Marina Barcelona 92 (MB92).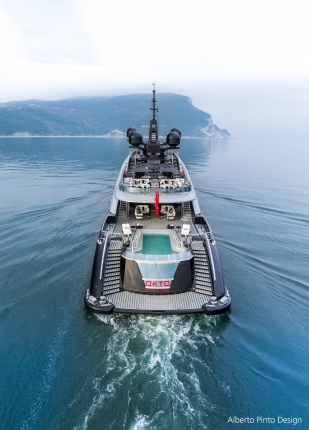 EsthecFrom a new office inside the Barcelona shipyard, a specialized, on site team will offer Bolidt and Esthec branded products and services, handling any decking project with enhanced promptness and efficiency. Being the best means remaining up-to-date and keeping pace with the newest technologies and innovations, to satisfy all kinds of client demands.
The new partners have identified a growing demand among owners of superyachts to use an alternative decking solution from the traditional use of teak which is completely green and sustainable. In line with this philosophy, Bolidt and Esthec have created a dedicated refit division.
For many years Bolidt and Esthec have been establishing their names in the yacht building industry, replacing traditional (teak) decks and conventional deck coverings with their new and innovative solutions. MB92, with its two shipyards – one in Barcelona and the recently-opened dry dock in La Ciotat – is a global leader in the superyacht refit business, carrying out an average of 90 projects per year.
Esthec and Bolidt provide a new generation of decking, with technologically advanced materials made of natural ingredients, including color pigments and fillers which are completely recyclable. In partnership, the companies share a 'no limits' approach in decking design, resulting in a new level of luxury and customer experience for the superyacht sector.
About Bolidt
/Esthec
Dutch group Bolidt has been a global leader in the field of flooring for unlimited applications since 1964. Bolidt and Esthec are two brands of the Group specializing in luxury flooring and decking solutions for the maritime industry, including cruise ships and yachts. Esthec is the prefabricated product installed in the same way as traditional decking material while Bolidt is a liquid material directly poured on the surface to cover.
Both Bolidt and Esthec are made of natural ingredients to offer unlimited solutions in texture, design, colors and shapes. The strength of the product and its durability is in the thermo-set property which can perform in the most severe weather conditions.
About
MB92
Marina Barcelona 92 (MB92) is a company fully dedicated to the yacht industry that provides service-refit, repair and maintenance works to more than 100 super yachts per year with a length from 35 up to 200 meters. Located in the port of Barcelona, a strategic stop-off point for yachts on their journey between the Mediterranean and the Caribbean.
At the beginning of 2017, MB92 and Blohm+Voss announced a Joint Venture that allows MB92 to carry out the management of Blohm+Voss La Ciotat SAS. Located in the technical area of the Port Authority of La Ciotat (SEMIDEP), France, the shipyard provides services to superyachts with lengths of more than 50 meters.
MB92 facilities cover a total area of 124,000m2 including:
220-meter dry-dock
Syncrolift up to 2,000 tonnes
Standing work area for up to six vessels
150 tonne Travelift
14 berthing spaces with capacity to accommodate eight yachts of up to 110 meters and six yachts of up to 200m LOA
4,000 tonne Shiplift to be completed in 2018
Blohm+Voss La Ciotat facilities cover a total area of 27,500m2 including:
A 200m long x 60m wide dry dock with capacity for four yachts at a time
Gantry Cranes (250t and 600t crane)
All services and management carried out in both shipyards benefit from 25 years of Marina Barcelona 92 professional experience and knowledge in the industry guaranteeing the highest level of quality (ISO 9001, ISO 14001, ISPS).