16 April 2019 – Wallem has updated its corporate identity to mark the beginning of a profound shift in its service offering that will harness the latest technology to improve asset management transparency and efficiency in a program intended to transform the relationship between owners and their ships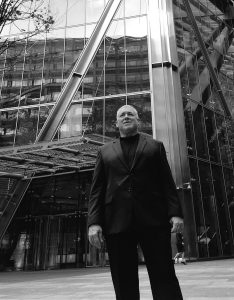 To support the maritime industry as it undergoes a structural transition, Wallem is changing, and so is its brand. The refreshed corporate identity and logo reflects its ambition to establish a fundamentally new approach in collaborating with vessel owners and deliver on its vision of being 'the leading provider of technology-driven maritime solutions in a customer centric and transparent manner'.
The refreshed strategy is built on three fundamental values: supporting quality through safety; transparency through technology; and service through support. Combined, these principles will enable Wallem to enhance its current offerings, including safety management and compliance, crewing, training, asset and commercial management, and ship agency, among others. They will also provide momentum for the introduction of new services required by vessel owners, such as technology consultancy.
Wallem CEO Frank Coles believes a lack of transparency is inhibiting collaboration and preventing owners from making the most of their vessels. "Giving owners a clearer view of fleet performance and operational status paves the way for building a more constructive relationship. Wallem has an opportunity to grow by taking the initiative in tackling the shortcomings of the traditional model," he says.
Coles also says, "The new business model with technology also means that transparency is also needed in the new model in terms of business ethics and transactions for gaining business.  This is not only about clarity of the operations but how you get the business in the first place!"
Clarity is key to making better decisions and ultimately improving performance, according to Coles. It will help at a fleet-level by maximising asset utilisation, at a vessel-level by helping individual ships run at peak operational capacity, and at an owner-level by helping them address ever more stringent regulatory requirements and get to grips with emerging trends such as digitalisation.
"We want to be consultative experts and provide world-class support to owners as they grapple with industry-wide challenges such as IMO's sulphur cap and the menace of cyber-threats, whilst maintaining a competitive edge in an increasingly tight market," Coles says.
"These are the issues shipping is contending with as we head into the 2020s and the current approach to ship-management just isn't compatible. By identifying what matters, our new vision sets us on a path to fix that disconnect once and for all."
With Wallem also positioning itself for growth, the combination of transparency and technology is conducive to delivering a consistently high level of customer service around the globe, he emphasises. "There is no industry inherently more global in nature than shipping. In today's interconnected world – both technologically and economically – there is no justification for regional variations in how owners are supported."
About Wallem:
The Wallem Group is a leading provider of technology driven maritime solutions, offering services supporting the complete lifecycle of a vessel from newbuilding supervision to end-of-life recycling guidance. Our extensive portfolio includes asset management, crewing, training, ship management, safety and compliance management and agency services.
As one of the largest and most experienced solutions providers globally, we offer world-class support to shipowners by bringing our customer-centric and transparent approach to all aspects of fleet operation. We combine technology and forward-thinking to deliver on safety, technical, and commercial performance without compromise. We believe in collaboration to foster innovation in meeting future needs.
Wallem operates globally with a shore-based team of 1000 and more than 7,000 highly qualified seafarers, serving nearly all vessel segments.
For further information:
Lidia Selivanova
Head of Marketing, Wallem Group
Phone: +49 162 1038279
Email: lis@wallem.com
Debbi Bonner
Managing Director, JLA Media
Phone: +31 652 630122
Email: debbi.bonner@j-l-a.com