15 January 2019 – Around 2,500 original artworks aboard Holland America Line's newest cruise ship look beyond simply working in sympathy with their seaborne surroundings to put the visual surprises of contemporary art at the centre of the cruising experience.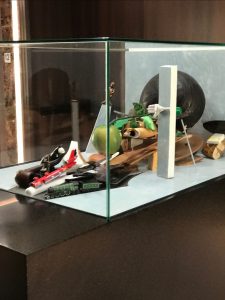 Developed by YSA Design and Art@YSA, curated art has been a special area of focus on board the 99,902gt Pinnacle-class vessel Nieuw Statendam, where it is seen as a key differentiator likely to catch the attention of new and repeat cruise guests alike.
As with sister ship Koningsdam, YSA Design has played a role on the 2,666-guest capacity ship, in this case developing and project managing the theatre, stairs & lift lobbies, Neptune and observation lounges, Tamarind Restaurant, spa, kids zones, all outdoor areas, magrodome and several other public spaces.
For Nieuw Statendam, YSA Design and Art@YSA have also envisaged how all ship interiors can be transformed by the introduction of often dramatic and sometimes playful contemporary art, going on to select works and manage their installation throughout the ship. Its team took account of the need to source some of the artworks to align with the fluid curves associated with the 'Architecture of Music' theme used across multiple Pinnacle-class interiors.
YSA Design chairman and partner Trond Sigurdsen said that the curated art project offers a distinct expression of HAL's branding objectives. "Of course, all curated art must meet maritime safety rules and work in proportion to the height and other space restrictions on board ship but the curator's role includes integrating bold and original art with spectacular ship design to create something even better. Appreciation of the arts is a theme running throughout Nieuw Statendam, but the curated art project as food for the mind of the cruise guest has been developed exclusively by YSA Design."
Sigurdsen said that YSA Design had created Nieuw Statendam's interiors that are light-filled and predisposed as settings in which to appreciate art. YSA Design and its forerunner company Yran & Storbraaten has worked with HAL since 2002, overseeing its increasing use of original artworks as a differentiator in a 10-ship collaboration, he added. "Visual arts have been pivotal in evolving the brand in a way that retains its classic associations but adds edginess to appeal to a broader demographic. Three works on Nieuw Statendam even use the HAL logo as their inspirational motif."
With 160 artists featured, the ship houses one of the largest art collections at sea, according to Anne-Cecilie Thidemansen, YSA Design`s art consultant. Its three stair towers, for example, are effectively vertical art galleries graced by limited edition photographs, paintings and sculptures. "Visually arresting art can help passengers get their bearings onboard a huge cruise ship but it also provides talking points and, on repeat viewing, can offer fresh discoveries. Art changes situations and environments, which means it can also change perceptions," said Thidemansen.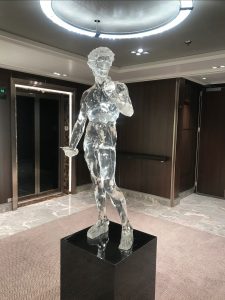 Works onboard include contributions from established artists. One of the most intriguing works of art is the piece by Bernard Pras, which offers a deconstructed homage to Magritte in the form of a sculpture that requires a defined vantage point to be recognisable. From any other point of view, it appears to be a random collection of recycled waste.
Other works provide examples of contemporary art playfulness: Deck 9, for example, features a version of the Michelangelo statue David holding a mobile phone. "The artist is saying something about classical sculpture and modern obsessions, but there's a further layer of irony if passengers see David as a 'selfie moment'," said Thidemansen.
She added: "Many of the artists on board are overdue for recognition, while others are young and emerging. It is a real pleasure to support talent wherever it is found, but there is also satisfaction in delivering fantastic pieces to the client knowing that prices will appreciate with wider exposure."
For more information please contact:
JLA Media
Debbi Bonner
Managing Director
debbi.bonner@j-l-a.com
+31 652 630 122
YSA Design
Trond Sigurdsen
Senior architect, Partner, Chairman
trond@ysa.no
+47 92057471