03 January 2023 – North P&I Club celebrates 10th anniversary of its Tokyo-based operation and foresees new benefits for Japanese clients as foundation of NorthStandard approaches.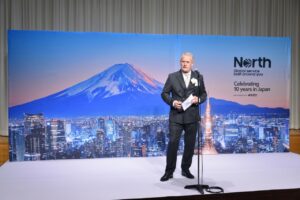 Around 150 guests attended a North P&I Club evening reception at Tokyo's Imperial Hotel to celebrate 10 years since the marine insurer established itself in Japan, in an event also anticipating the merger of North with the Standard Club in February 2023.
  Welcomed by Yoshinori Hashimura, Director (Japan), North, Members, brokers and other shipping industry connections were also joined at the gathering by Paul Jennings, Chief Executive, North and Thya Kathiravel, Chief Underwriting Officer, North.   Mr. Takeshi Hisatomi of longstanding North members Marubeni Corporation and MMSL Japan offered a formal toast on the occasion, expressing appreciation for the support and service rendered by North, and wishing the Club continued success and growth in Japan in the years ahead. Esteemed guests also included representatives from Kumiai Senpaku, IMECS / Itochu, Inui Global Logistics and Iino Kaiun.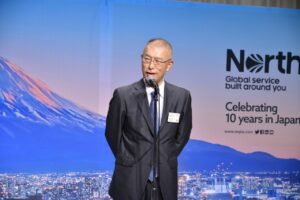 The occasion provided an opportunity to reflect on North's achievements in Japan to date and for Jennings and Kathiravel to offer a formal introduction of NorthStandard to a Japanese audience. Once combined, North P&I and Standard Club will establish one of the largest providers of mutual cover in the maritime industry. The formal merger to establish NorthStandard takes effect on the 2023 marine insurance renewal date of February 20th.     "The Tokyo event was a great success and a fantastic opportunity to meet with many of the people who have supported our team in Japan over the past decade," said Paul Jennings. "We were also able to highlight the continuity of contacts, procedures and service levels factored in for our clients in Japan through the merger, and engage directly with them on the benefits NorthStandard will bring for long-term stability, investment, a wider service portfolio and innovation in P&I."     
About North P&I Club: