20 May 2021 – The Spring 2021 issue of North Signals is now available for download or to view online at the following link: North Signals – Issue 123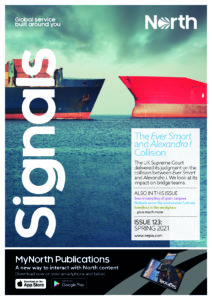 Articles in this edition include:
The Ever Smart and Alexandra I Collision
Engine failure highlights dangers of delegating maintenance
Call for clarity on the enforcement of the sulphur cap
Biofuels enter the sustainable fuel mix
Voyage charter variation: mind the gap!
Download the MyNorth Publications app
MyNorth Publications is an engaging new way to view North content on your smartphones and tablets. By downloading your edition of Signals in the MyNorth Publications app, you can access additional features such as video, interactive images and diagrams, which help bring our guidance to life. Simply click on the relevant store below to download our free app and get immediate access to Signals in our new and interactive format.


About North P&I Club:
North P&I Club is a leading global marine insurer providing P&I, FD&D, war risks, hull and ancillary insurance to over 248 million GT of owned and chartered tonnage. Through its Sunderland Marine brand, North also provides cover for fishing vessels, small craft, aquaculture risks and owners' fixed premium P&I. The S&P Global 'A' rated Club is based in Newcastle upon Tyne, UK with regional offices and subsidiaries in Australasia, China (Hong Kong and Shanghai), Greece, Ireland, Japan, Singapore and USA. North is a leading member of the International Group of P&I Clubs (IG), with over 12% of the IG's owned tonnage. The 13 IG clubs provide liability cover for approximately 90% of the world's ocean-going tonnage and, as a member of the IG, North protects and promotes the interests of the international shipping industry. For further information, visit: www.nepia.com
For more information:
Kim Rogerson
Senior Executive (Communications)
North P&I Club
+44 191 232 5221
kim.rogerson@nepia.com
Debbi Bonner
Managing Director
JLA Media
+31 652 630122
debbi.bonner@j-l-a.com