18 September 2023 – Seven months after its formal launch, NorthStandard is already realizing tangible benefits from combining two of the best-known names in global marine insurance.Following an internal restructuring process which ended on 1 September, NorthStandard says the foundations are in place to deliver the full advantages of consolidating North P&I and Standard Club under a single organization.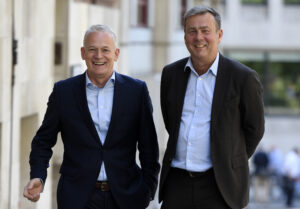 "Upholding service excellence has been critical during an extraordinary period of uncertainty for shipping," said Jeremy Grose, co-Managing Director, NorthStandard. "Doing so while combining two legacy marine insurance businesses worldwide confirms our confidence that a consolidated NorthStandard is fully equipped for shipping's urgent and future challenges."
Grose added that a rise in the mutual poolable tonnage entered with NorthStandard over the period indicated that the market shared the Club's convictions. Growing by just over 2.5% between 20 February and 31 August 2023, NorthStandard's mutual poolable tonnage increased to approximately 260 M GT. "We are very grateful for the trust being placed in NorthStandard by new and existing Members alike over the first half-year in operations," said Grose. Despite the continuing global economic and political turbulence, NorthStandard's financial position at the half year point remains resilient, with positive investment returns, a small underwriting surplus, and an increase in free reserves forecast. After a reorganization allocating blue-water mutual Members to one of six Geographical Sectors and putting diversified products under the care of Specialty Sectors, NorthStandard's new structure maintains the tailored and personal service of both legacy clubs as well as providing a sharper activity focus that pools expertise to target growth opportunities globally. Following the launch, NorthStandard has seen continued growth across its diversified business divisions, thanks to the support from new and existing members and clients. "These are wins based on quality of service, but value for money has also been critical," commented Paul Jennings, co-Managing Director, NorthStandard. "As well as delivering on plans for diversification, the new organization is proving resilient against inflationary pressures." Bringing the legacy businesses under a single roof in Singapore earlier this year has offered a model for balancing a consolidation strategy committed to retaining expertise while eliminating duplicated costs other than by reducing headcount. In this case, a move to a single premises reduced the cost base as previously each region was separately assessed, said Jennings. NorthStandard had also worked with its reinsurers to negotiate broader agreements for the period ahead, said Grose. "Our reinsurance partners have shown an exceptional and highly appreciated flexibility in helping NorthStandard to secure a key benefit of consolidation," he said. Some administrative savings will accrue from February 2024, as insured parties migrate away from legacy policies to unified NorthStandard cover, while the Club is also evaluating the legal cost benefits of reducing the number of its registered insurance entities from the current five. The tangible gains would influence NorthStandard's position on this year's renewal discussions and contribute to building what Grose described as "P&I that is 'fit for the future' to support Members in adapting to an increasingly complex maritime world". "We are cultivating a new role which seeks to lead and challenge shipping's key debates in a constructive way," he said. "The impact of sanctions through 2022-23 has shown that P&I holds a special place in global trade and that governments and regulators are increasingly likely to impose operating restrictions on shipping as part of their policy implementation". Jennings added: "The range and depth of discussions at our LISW 23 breakfast event last week clearly demonstrated that the intersection of big power politics continues to have a profound impact on maritime trade routes, the challenges of maintaining free and open seas and the evolving technology dynamics in this crucial sector for world prosperity. As a resource of global expertise, we are well placed to help governments, regulators and the shipping industry to understand the complexities of each other's challenges." Looking to the future, Grose observed: "P&I can provide the same thought-provoking but practically-grounded expert counsel on maritime safety, decarbonization or digitalization to help stakeholders understand the changes needed and the challenges ahead."
About NorthStandard:
NorthStandard is one of the leading providers of global marine insurance products and services across the maritime industries. Established through the merger of North P&I Club and the Standard Club in February 2023 and 'A' rated by S&P Global, NorthStandard has a premium income around US$800M and provides cover for over 365 million GT of owned and chartered tonnage.   From headquarters in the UK and with offices throughout Europe, Asia and the Americas, NorthStandard offers a unique blend of worldwide presence and class-leading expertise across multiple specialist areas, including P&I, FD&D, War Risks, Strike & Delay, Hull and Machinery and ancillary insurance. Its Sunderland Marine and Coastal & Inland divisions also provide cover for owners' fixed premium P&I, fishing vessels, inland waterway and coastal trading vessels and aquaculture. NorthStandard's comprehensive local market and sector knowledge is underpinned by continuous investments in market-leading digital technologies.   NorthStandard is a leading member of the International Group of P&I Clubs (IG) and is fully committed to upholding the shared objectives of its 12 independent member clubs, which provide liability cover for approximately 90% of the world's ocean-going tonnage.