Critical link enables expedition to document the Titanic with innovative carbon fiber and titanium 5-crewmember submersible.
19 October 2021 – The OceanGate Expeditions 2021 Titanic Survey Expedition was connected by Inmarsat's critical satellite communications. Inmarsat, the world leader in global, mobile satellite communications, kept the OceanGate Expeditions crew connected with team members and support services during the six-week expedition to document the important maritime heritage site located over 400 miles off the coast of Newfoundland in the North Atlantic Ocean.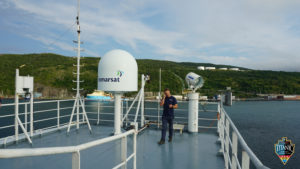 "The OceanGate Expeditions' Titanic Survey Expedition has taken Inmarsat full circle," said Eric Griffin, VP Offshore and High End Fishing, Inmarsat. "In response to the sinking of the Titanic and the appalling loss of life, the 1914 Safety of Life at Sea (SOLAS) Convention developed a radiotelegraphy requirement for vessels to be equipped with radio equipment for continuous communications. In 1979, the International Maritime Organization set up Inmarsat to provide reliable satellite communications to mariners as an extension of this original requirement. Today, we are proud to have worked with the team at OceanGate Expeditions to make these communications available at high speeds via Inmarsat's Fleet Xpress service for their operations and to have played a role in the important scientific and documentary work they are performing."
"In any expeditionary environment your crew needs to plan for and be prepared for the unexpected," says Stockton Rush, President, OceanGate Expeditions. "The ability to communicate with onshore crewmembers from the expedition support vessel makes a significant difference toward achieving mission success. Whether simply requesting parts and supplies we needed throughout the expedition, tracking our dive crews during hours-long dives in the OceanGate Inc. submersible, Titan, or ensuring the welfare of our crewmembers as they stayed in touch with family and friends back home, communications were essential for our operations. Our supporting Mission Specialists also appreciated the ability to maintain contact and share their experiences," says Rush.
Those interested in supporting the ongoing documentation and scientific efforts as Mission Specialists are encouraged to visit www.oceangateexpeditions.com.
Contacts for Media Inquiries
Jonathan Sinnatt / Matthew Knowles
Corporate Communications, Inmarsat
Tel: +44 (0)7889 605272 / +44 (0)7725 475507
press@inmarsat.com
Lisa Dreher
OceanGate Expeditions
Tel: +1 425 442 1301
lisa.dreher@oceangateexpeditions.com
Debbi Bonner
Managing Director, JLA Media Ltd
Tel: +31 (0)652 630122
debbi.bonner@j-l-a.com
About Inmarsat
Inmarsat is the world leader in global, mobile satellite communications. It owns and operates the world's most diverse global portfolio of mobile telecommunications satellite networks, and holds a multi-layered, global spectrum portfolio, covering L-band, Ka-band and S-band, enabling unparalleled breadth and diversity in the solutions it provides. Inmarsat's long-established global distribution network includes not only the world's leading channel partners but also its own strong direct retail capabilities, enabling end to end customer service assurance.
The company has an unrivalled track record of operating the world's most reliable global mobile satellite telecommunications networks, sustaining business and mission critical safety & operational applications for more than 40 years. It is also a major driving force behind technological innovation in mobile satellite communications, sustaining its leadership through a substantial investment and a powerful network of technology and manufacturing partners.
Inmarsat operates across a diversified portfolio of sectors with the financial resources to fund its business strategy and holds leading positions in the Maritime, Government, Aviation and Enterprise satcoms markets, operating consistently as a trusted, responsive and high-quality partner to its customers across the globe.
For further information, follow us: Twitter | LinkedIn | Facebook | YouTube | Instagram.

About OceanGate Expeditions
OceanGate Expeditions, Ltd is dedicated to direct human exploration of the undersea world. Not satisfied with scratching the surface of the ocean near the shoreline, OceanGate Expeditions charters manned submersibles to create expeditions at depths far deeper than can be reached with SCUBA. The organization conducts undersea expeditions to explore and document the 95% of the seafloor that man has never visited including iconic shipwrecks, hydrothermal vents, deep-sea canyons, and uncommon biological events around the world. These expeditions, to depths approaching 4,000 meters (13,123 feet), provide rare opportunities for citizen scientists to observe the mysteries of the deep sea and expand our understanding of our home, Earth, the blue planet. Visit www.oceangateexpeditions.com.
Follow OceanGate Expeditions on: YouTube | Instagram | Facebook | Twitter | LinkedIn.