1 May, 2017 (Esbjerg, Denmark) – This year's Offshore Technology Conference (OTC 2017) in Houston will see VIKING present bold and innovative products and solutions that make thinking beyond traditional offshore safety choices a wise move in terms of both safety and efficiency.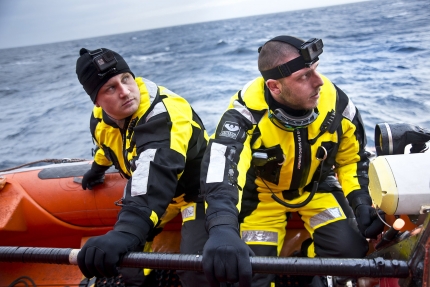 Anti-Exposure suit
Safety equipment and servicing leader VIKING Life-Saving Equipment (VIKING) will use OTC 2017 to showcase new offerings designed to boost the safety of personnel, and to reduce the time and costs of maintaining compliance, too.
Three-in-one
PPE innovation
The star turn 'quarterback' of VIKING's offshore PPE line-up at booth 701 is a brand new anti-exposure, work and immersion suit called PS4191. According to Soren Hansen, VIKING Global Product Manager for PPE, the new suit is highly breathable, minimizing the risk of heat stress and condensation buildup. Also, with fully integrated inflatable buoyancy and various lining choices, this ISO- and SOLAS-approved suit is a more than viable replacement for the three individual pieces of PPE (summer suit, winter suit and a lifejacket) typically worn in the industry. "The PS4191 is fitted, feature-packed and ergonomically enhanced unlike any suit seen before – and compared with what people usually wear out there, it's a huge upgrade", Hansen says.
Work hard,
stay safe
While decades of experience in the design, manufacture and servicing of tough offshore PPE has laid a solid foundation for innovations such as the PS4191, VIKING continues to incorporate the latest knowhow, directly from the source. "We always strive to develop even better, safer and more efficient products. Everyone who wears protective gear offshore often does so for many hours a day, and they're more than entitled to an opinion about it. We listen to what they have to say, and in fact, this helps us stay at the forefront of improving the wearer's experience, safety and work-efficiency through better ergonomics and the best combination of features," Hansen says.
Safe to
fly
VIKING has also upgraded its range of cutting-edge PPE for offshore aviation, continuing a flow of product innovations that have long made it the first choice of many offshore helicopter operators. The exhaustive ETSO-approved gear program includes fully featured protective suits and lifejackets for pilots and passengers, along with the latest Category A STASS and PLB technology.
Free to
operate
When it comes to offshore safety products, regulatory compliance and service go hand in hand. At this point, VIKING's Offshore Safety Agreements provide valuable advantages for a growing number of owners and operators.
"Our safety agreements can be set up to manage all aspects of an offshore asset owner's safety equipment sourcing and servicing tasks at predictable, transparent prices," says Benny Carlsen, VIKING Senior Vice President, Global Sales. A wide range of safety equipment services can be added under the concept, including evacuation systems, liferafts (both conventional and extended service interval types), fire safety equipment, PPE and lifesaving appliances. For an absolute minimum of operational interruption, liferafts and immersion suits can be sourced directly from VIKING´s large global exchange pool. "At all levels, an Offshore Safety Agreement makes for significantly easier administration and logistics, cutting down the number of interactions needed to coordinate servicing with a range of different suppliers", Carlsen says.
About
VIKING
VIKING Life-Saving Equipment is a global market leader in maritime and offshore safety, providing and servicing safety and fire-fighting equipment for passenger and cargo ships, offshore assets, fishing vessels, the navy, fire departments and leisure yachts.
VIKING is a privately held corporation founded in 1960 with group headquarters in Esbjerg, Denmark. Products are manufactured in Denmark, Norway,Bulgaria and Thailand. VIKING offers a broad range of off-the-shelf and tailored safety solutions and systems certified in accordance with the latest requirements of the IMO, SOLAS, EU and USCG. The product portfolio includes chute and slide-based marine and offshore evacuation and crew transfer systems, liferafts, lifejackets, immersion suits, fire suits, work suits, pilot suits, helicopter transportation suits, MOB boats, davits, pilot ladders, signs, and other lifesaving appliances. VIKING Shipowner and Offshore Safety Agreements offer uniquely customizable concepts that incorporate safety products, global servicing, single-source management, and financing in a variety of fixed price structures.
With 2,000 employees worldwide, the unique VIKING network of branch offices, agents, 260 certified servicing stations and worldwide stock points makes VIKING a truly global provider at convenient locations in all significant markets.
For more information and
press enquiries contact:
Thomas Hestehave
Global Marketing Communications
+45 2542 8454
THH@VIKING-life.com