8 September 2016 – PERFECt II – Second phase brings additional partners for piston free LNG container vessel
Project partners GTT, CMA CGM (and its subsidiary CMA Ships) and DNV GL signed a cooperation agreement with new project participants ABB, the Caterpillar company Solar Turbines, and OMT for phase two of the highly successful PERFECt project. The Piston Engine Room Free Efficient Containership project investigates the possibility of using a combined gas and steam turbine system (COGAS) to power an ultra large container vessel (ULCS). The first phase of the project performed by GTT, CMA Ships and DNV GL showed promising results with regard to the commercial competitiveness of the design compared to a LNG-fuelled ship with conventional propulsion system. The aim of the second phase of the project is to detail the technical concept and the commercial feasibility.
"CMA CGM and its subsidiary CMA Ships position themselves as pioneers by contributing to this worldwide leading innovation. We are glad to be part of the second phase of the PERFECt project, which aims at ensuring the best efficiency of this innovative vessel design," says Ludovic Gérard, Executive Vice President CMA Ships. "The COGAS system with electrical propulsion gives us a great deal of freedom in the general arrangement and in tailoring the installed power to the real operational requirements we are facing. New partners will bring their expertise to go further than the initial concept," he adds.
"GTT is pleased to collaborate with key technical and industrial players to develop the PERFECt project. The results of the first phase prove not only that the project is technically and economically viable, but also that the proven technologies can been deployed to make the PERFECt project a reality", says Philippe Berterottière, Chairman and CEO of GTT.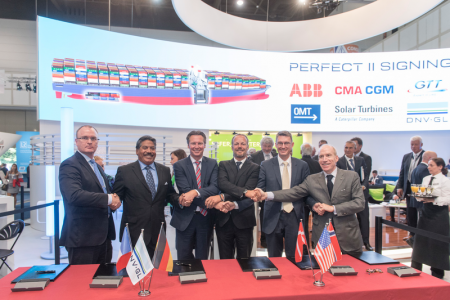 Caption: From left to right: Rune Lysebo, Senior Vice President Sales at ABB, Ennodio Ramos, Vice President, Power Generation and Strategic Growth at Solar Turbines Inc., Knut Ørbeck-Nilssen, CEO of DNV GL – Maritime, Ludovic Gérard, Executive Vice President CMA Ships, Thomas Eefsen, Business Development Director for Containerships at OMT, Philippe Berterottière, Chairman and CEO of GTT.
"We are very excited to be part of the PERFECt project. ABB technology is already powering the first LNG-powered ice breaker and cruise ship, and we look forward to exploring its possibilities for container vessels," says Juha Koskela, Managing Director of ABB's Marine and Ports business.
"The PERFECt Ship consortium is unique in that it brings all parties together towards one common goal of efficient cargo transportation," says Ennodio Ramos, Vice President, Power Generation and Strategic Growth of Solar Turbines Inc. (a Caterpillar Company). "In the future, LNG will play a major role as both a marine and low emissions fuel. Gas turbines burn LNG in a clean and efficient manner exceeding any current marine emission restrictions and provide a safe margin for future cleaner ships. Solar Turbines looks forward to participating in this consortium," he adds. "Our customers are asking for solutions to improve vessel efficiency, drive down operating costs and maintain leading-edge up time," Nigel Parkinson, Caterpillar Marine Managing Director, notes. "The expertise of our Caterpillar Marine experts from the Gas Technology Group out of Caterpillar Motoren GmbH & Co. KG, Kiel, and together with all project partners, Caterpillar Marine is prepared to offer solutions to our customers today to help them achieve this goal."
"We are pleased to be part of the PERFECt project, which brings together leading maritime companies for joint innovation. It is very exciting to investigate the potential of a combined gas and steam turbine system in large containerships, and we trust that the project will result in a good and competitive ship design for the future," says Thomas Eefsen, Business Development Director for Containerships at OMT.
"It is a real pleasure to see top industry names take an interest in driving forward an innovative project like PERFECt," says Knut Ørbeck-Nilssen, CEO of DNV GL – Maritime. "As LNG bunkering stations continue to grow in numbers and global coverage, projects that push the efficiency envelope on LNG-powered vessels could result in significant market advantages for first movers."
PERFECt phase two will build on the results of the original study which was launched in 2015, utilizing the technical expertise of the project partners to further optimize the overall design. Some of the focus areas for phase two are: process technology optimization of the COGAS system including the steam turbine, use of the available cooling capacity of the LNG, and further optimization of the ship design to attain greater efficiency and increased cargo capacity.
"This MOU brings a new set of expert capabilities to a project that has already delivered very promising results. Our object with phase two is to work towards a design concept with a sufficient level of technical depth for a purchasing decision," says Gerd Würsig, Business Director LNG fuelled Ships at DNV GL – Maritime.
In phase one of the project GTT, CMA CGM (and its subsidiary CMA Ships) and DNV GL released a technical and feasibility study for a COGAS-powered LNG-fuelled electrically driven mega box ship. Based on the results of that study, the PERFECt vessel design was found to offer potentially increased cargo capacity, greater layout flexibility and reduced maintenance costs than comparable conventionally powered HFO and LNG designs.
About
ABB
ABB (www.abb.com) is a leading global technology company in power and automation that enables utility, industry, and transport & infrastructure customers to improve their performance while lowering environmental impact. The ABB Group of companies operates in roughly 100 countries and employs about 135,000 people.
About
GTT
GTT (Gaztransport & Technigaz) is the designer of containment systems with cryogenic membranes used to transport and store liquefied gas, and in particular, LNG (Liquefied Natural Gas). For over 50 years, GTT designs and offers to its customers technologies which allow them to optimise storage space and reduce the construction and operating costs of ships or tanks equipped with these systems. The liquefied gas market includes several types of vessels: LNG carriers, FSRUs (Floating Storage Regasification Units), FLNGs (Floating Liquefied Natural Gas vessels) and multi-gas carriers (in particular for ethane and LPG). The company also provides solutions dedicated to onshore storage and to the use of LNG as fuel for vessel propulsion (and associated bunkering), as well as a broad range of high added value services for all stakeholders throughout the liquefied gas chain. Learn more on www.gtt.fr
GTT is listed on Euronext Paris, Compartment A (ISIN FR0011726835 Euronext Paris: GTT) and is notably included in SBF 120 and MSCI Small Cap indices.
About Solar Turbines
(a Caterpillar Company)
Headquartered in San Diego, California, USA, Solar Turbines Incorporated, a subsidiary of Caterpillar Inc., is one of the world's leading manufacturers of industrial gas turbines, with more than 15,000 units and over 2 billion operating hours in over 100 countries. Products from Solar Turbines play an important role in the development of oil, natural gas and power generation projects around the world. Solar Turbines' products include gas turbine engines (rated from 1,500-30,000 horsepower), gas compressors, and gas turbine-powered compressor sets, mechanical-drive packages and generator sets (ranging from 1-22 megawatts).
About CMA CGM and
its subsidiary CMA Ships
CMA CGM, founded and led by Jacques R. Saadé, is a leading worldwide shipping group. Its 536 vessels call more than 420 ports in the world on all five continents. In 2015, they carried 18 million TEUs (twenty-foot equivalent units). CMA CGM has grown continuously, and has been constantly innovating to offer its clients new sea, land and logistics solutions. With a presence in 160 countries, through its network of over 600 agencies, the Group employs more than 29,000 people worldwide, including 2,400 in its headquarter in Marseilles. CMA Ships is a wholly owned subsidiary of CMA CGM dedicated to manage all fleet related operations. Some of its main objectives are: managing the vessels, supervising new buildings, providing CMA CGM with any technical advice, and running the Group's Fleet Center Navigation.
About OMT
Odense Maritime Technology (OMT) is a ship design and consultancy company, building on the heritage and design experience of the former Odense Steel Shipyard in Denmark. Key focus areas for OMT are design of cost-effective and fuel-efficient ships. The product range includes container ships, bulk carriers, gas tankers, offshore supply vessels, tugs and navy ships. Another key focus area is retrofitting of existing vessels to improve fuel efficiency and ensure compliance with new regulations. OMT has around 150 employees with offices in Denmark, China, India and Canada.