17 January, 2017 – MacGregor, part of Cargotec, has signed a three-year MacGregor Onboard Care (MOC) service agreement with the German shipping company, Peter Döhle Schiffahrts Group, for an annual inspection of deck machinery, steering gear and cranes on a mixed fleet of 70 vessels. The agreement became effective as of 1 January 2017.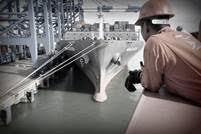 "Our commitment is to provide the operative availability of equipment and ensure sustainable ship operations and earning capabilities for these vessels," says John Carnall, Senior Vice President, Global Lifecycle Support, MacGregor.
The MOC service contract will provide approximately 100 inspections of key MacGregor-delivered equipment each year, including Hatlapa steering gear and deck machinery as well as MacGregor cranes. MacGregor has agreed to a fixed rate for all inspections at its major hubs around the world. If any spare parts are required, the customer will benefit from specially-negotiated prices.
"MacGregor's ability to seamlessly offer a service contract that covers a range of equipment brands delivers additional benefits to the customer, particularly in this difficult market situation. It means that the customer does not have to sign up to more contracts than is necessary, reducing administration and in all likelihood, reducing costs," notes Mr Carnall.
Regular, expert inspections ensure that equipment is functioning as intended and that wear is following an expected pattern. Any abnormalities are investigated and remedial measures suggested to rectify the problem with minimal impact on availability.
"We are immensely proud that Peter Döhle has turned to MacGregor to carry out these essential maintenance tasks. The operator appreciates MacGregor's professional services and the first-class support it provides for its marine and engineering superintendents", says David Navratil, MacGregor Sales Engineer."
Our services ensure that equipment is maintained in good order at the optimum time, minimising the risk of downtime, maximising earning capabilities and working preventatively in reducing the lifetime cost of equipment," says Meher Ben Hiba, MacGregor Product Manager of Auxiliary & Machinery Systems.
The Hamburg-headquartered Peter Döhle Schiffahrts Group operates a worldwide fleet of around 110 vessels comprising container ships, bulk carriers and multi-purpose vessels. The MacGregor service contract reflects this operational profile and will meet inspection requirements for a variety of ship types on a global basis.
MacGregor is also developing a new service agreement concept that will further simplify service arrangements for customers. It will be available early this year.
For more information
please contact:
John Carnall, Senior Vice President, Global Lifecycle Support, MacGregor, Tel. +44 7793 243 332 Email: john.carnall@macgregor.com
or
Heli Malkavaara, Senior Communications Manager, MacGregor, tel. +358 20 777 4500
Email: heli.malkavaara@macgregor.com
MacGregor shapes the offshore and marine industries by offering world-leading engineering solutions and services with a strong portfolio of MacGregor, Hatlapa, Porsgrunn, Pusnes and Triplex brands. Shipbuilders, owners and operators are able to optimise the lifetime profitability, safety, reliability and environmental sustainability of their operations by working in close cooperation with MacGregor.
MacGregor solutions and services for handling marine cargoes, vessel operations, offshore loads, crude/LNG transfer and offshore mooring are all designed to perform with the sea. www.macgregor.com
MacGregor is part of Cargotec. Cargotec's (Nasdaq Helsinki: CGCBV) sales in 2015 totalled approximately EUR 3.7 billion and it employs over 11,000 people. www.cargotec.com