November 16, 2012 – Leading Classification Society ClassNK (Chairman and President: Noboru Ueda) announced that it has certified the type specific ECDIS training courses provided by the newly established ECDIS training centre, Philippines-Japan Maritime Training Management Inc. ClassNK Executive Vice President Koichi Fujiwara presented the certificates to Philippines-Japan Maritime Training Management Inc. (PJMTM) President Eduardo U. Manese during the centre's opening ceremony on 8 November 2012.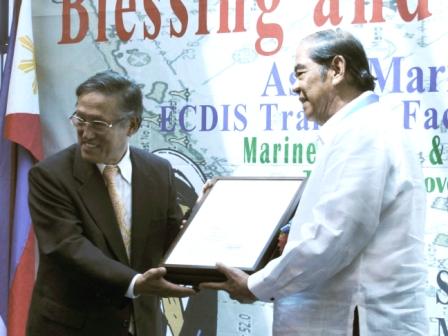 ClassNK Executive Vice President Koichi Fujiwara – PJMTM President Eduardo U. Manese
New amendments to SOLAS requiring ECDIS (Electronic Chart Display and Information System) systems be installed on vessels are being phased-in beginning this year, and related changes to the STCW convention require masters and deck officers to prove their understanding and proficiency with the ECDIS systems installed onboard their vessels. The Japanese maritime cluster has been a driving force in the development of the new regulations and other efforts to improve and further professionalize seafarer training, and PJMTM's new state-of-the-art ECDIS training centre is one part of those efforts.
Established with funding from the International Mariners Management Association of Japan (IMMAJ), an association of 96 Japanese companies who collectively employ almost 50,000 seafarers on more than 2,300 vessels, PJMTM's new facility in Manila will boasts 56 dedicated ECDIS simulators and will provide comprehensive type-specific ECDIS training for Filipino seafarers who serve on Japanese merchant vessels. The ECDIS training course certification provided by ClassNK covers type specific ECDIS training for systems from all four of the manufacturers used by the centre, including Japan Radio Corporation (JRC), FURUNO, Tokyo Keiki, and Transas Group.
ClassNK began offering both generic and type-specific ECDIS course certification services in November 2011 in order to help ECDIS training centres improve their training programs and establish better standards for maritime training, Since then ClassNK has been at the forefront of the ECDIS training industry, certifying courses at training centres in Japan, the Philippines, India and Europe.
For further information on
this topic please contact:
ClassNK Certification Service Department
TEL: +81-3-5226-2178
FAX: +81-3-5226-2179
e-mail: qad@classnk.or.jp