May 17, 2011 – Restech Norway AS becomes sole supplier of Pneumatic line throwers to German Maritime Search and Rescue Service.
Restech Norway has fulfilled a major contract to supply the German Maritime Search and Rescue Service (DgzRS) with its Pneumatic Line Thrower (PLT) technology. Recent months have seen Restech deliver a total of 58 PLT Mini units to DgzRS, for use on all of its smaller lifeboats. Larger rescue cruisers in the organisation's fleet, up to 46m in length, are already equipped with the bigger PLT system.
In completing the deliveries, Restech Norway has become the sole supplier of line throwers to DgzRS.
Petter Olsen, Restech Norway sales manager, says: "Last year we were contacted by DgzRS, which was interested in the PLT Mini replacing its existing pyrotechnical hand guns. Having had experience already with the larger PLT equipment, DgzRS knew how it worked and was impressed with the benefits of the PLT Mini compared with other equivalent pyrotechnical equipment on the market."
Once it received the order, last December, Restech Norway started work in early 2011 on manufacturing 58 storage containers and fitting each with a PLT Mini, CO2 cartridges, three projectiles, light sticks and a rescue line. The new line thrower systems are all now operational onboard DgzRS' 41 lifeboats, which operate alongside the rescue cruisers in the organisation's 61-strong vessel fleet.
"The experience to date has been extremely positive," says Michael Heinzius, DgzRS coxswain. "The PLT Minis are a big improvement on what we had before. The throw width is greater, they are easier for the crew to handle and the CO2-based throwers are cheaper than using ammunition."
The PLT Mini is reusable, capable of launching many different types of projectiles and, unlike pyrotechnics, it is safe to use in an oil and gas environment. Moreover, the technology is very precise in terms of accuracy, is not considered as hazardous and offers a life expectancy of between 10 and 20 years.
The use of compressed air makes a further contribution to safety, because it allows full training operations to be carried out onboard.
A handy line thrower for smaller rescue and patrol boats, the PLT Mini incorporates a rescue projectile containing 90m of line with strength of 1500N. A rescue buoy can be launched up to 75 metres using the PLT Mini and a line box and will inflate within two second after hitting the water.
Restech Norway AS, based in Bodø, manufactures line throwers and related equipment for various offshore and onshore customers, including various Coast Guards, Navies, Police and Fire Brigades and FPSO installations, as well as Sea Rescue Organisations worldwide.
DgzRS has 186 full-time employees and more than 800 volunteers who are on call on a total of 61 vessels based at 54 stations in the North Sea and Baltic Sea. All missions are coordinated by a central Maritime Rescue Co-ordination Centre in Bremen.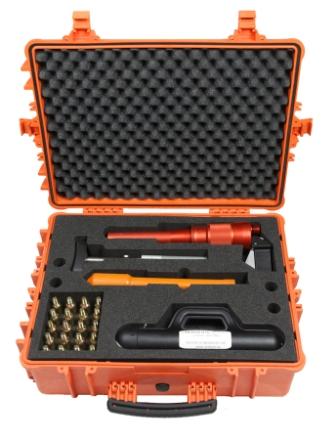 The PLT Mini Rescue Pack designed for use on smaller vessels.

Restech PLT R 230 pneumatic line thrower, designed for use with larger rescue cruisers.