Inmarsat Maritime president receives prestigious digitalisation award in virtual ceremony
18 February 2021 – Inmarsat, the world leader in global, mobile satellite communications, is proud to announce that Ronald Spithout, President, Inmarsat Maritime, has won the SMART4SEA 2021 Leadership Award.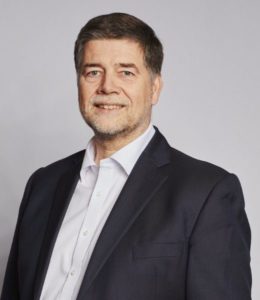 Developed as part of the SAFETY4SEA family of events, the SMART4SEA Awards celebrate "Smart Excellence & Sustainable Shipping". The SMART4SEA Leadership Award recognises individuals who have "provided industry leadership and contributed towards smarter shipping throughout [their] career".
Spithout accepted the honour during a SMART4SEA Awards ceremony on 17 February, staged virtually due to the ongoing Covid-19 pandemic in place of the regular event held at the Yacht Club of Greece, Piraeus. His selection recognises a longstanding contribution to smarter shipping, with special focus on his impact on maritime digitalisation since being appointed President, Inmarsat Maritime in 2014, at a pivotal moment in the smart shipping revolution.
In 2016, Spithout oversaw the launch of Fleet Xpress, the first globally available, high-speed broadband solution for marine operations from a single communications provider. Less than five years later, the solution had been installed on over 10,000 vessels. Fleet Xpress has enabled the most comprehensive suite of services for shipping: 'Fleet Data' – an end-to-end IoT platform for data collection; 'Fleet Connect' – dedicated, independent bandwidth for Certified Application Providers; the cybersecurity solution 'Fleet Secure'; the crew WiFi portal 'Fleet Hotspot', as well as a host of other solutions for shipping.
Spithout's tenure has also seen Inmarsat prioritising its focus on original research into maritime digitalisation.  The company commissioned the highly influential Trade 2.0 and Welfare 2.0 studies, and the recently published 'Digitalisation Uncovered: What's Next for Shipping?'. He is also a driving force behind Inmarsat's Open Innovation Challenge, which nurtures new technologies and start-ups, aiming to enhance crew safety, health and wellbeing in the maritime and offshore sectors.
On receiving the award, Spithout commented: "I am delighted to accept the 2021 SMART4SEA Leadership Award, which is a significant honour and puts me alongside some very distinguished company. However, this award more truly recognises the major role Inmarsat solutions are playing in the digital transformation of the maritime sector and the dedicated team of professionals behind their delivery, implementation and support. I would also like to thank the SMART4SEA Awards organisers for their continuing work in encouraging a technologically progressive culture throughout the maritime industry."
Contacts
Media Enquiries:
Jonathan Sinnatt/Matthew Knowles
Corporate Communications
Tel: +44 (0)20 7728 1518/1355
press@inmarsat.com
Mark Warner
Marketing and PR Director, Inmarsat Maritime
+44 (20) 7728 1654
mark.warner@inmarsat.com
Debbi Bonner
Managing Director, JLA Media Ltd
+31 (0)652 630122
debbi.bonner@j-l-a.com
About Inmarsat
Inmarsat is the world leader in global, mobile satellite communications. It owns and operates the world's most diverse global portfolio of mobile telecommunications satellite networks, and holds a multi-layered, global spectrum portfolio, covering L-band, Ka-band and S-band, enabling unparalleled breadth and diversity in the solutions it provides. Inmarsat's long-established global distribution network includes not only the world's leading channel partners but also its own strong direct retail capabilities, enabling end to end customer service assurance.
The company has an unrivalled track record of operating the world's most reliable global mobile satellite telecommunications networks, sustaining business and mission critical safety & operational applications for more than 40 years. It is also a major driving force behind technological innovation in mobile satellite communications, sustaining its leadership through a substantial investment and a powerful network of technology and manufacturing partners.
Inmarsat operates across a diversified portfolio of sectors with the financial resources to fund its business strategy and holds leading positions in the Maritime, Government, Aviation and Enterprise satcoms markets, operating consistently as a trusted, responsive and high-quality partner to its customers across the globe.
For further information, follow us: Twitter | LinkedIn | Facebook | YouTube | Instagram